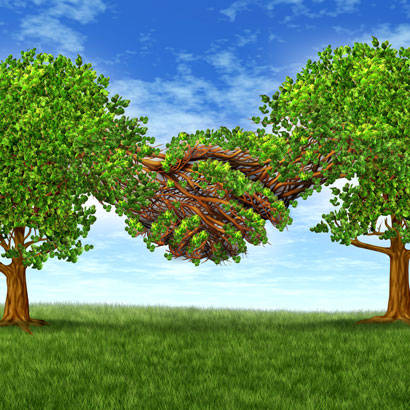 Although there are many nonprofit recreation and youth organizations that are financially solid, just as many or more need additional funding to be able to provide the leisure programs that make a beneficial difference in the lives or people who are often marginalized. Frequently, programs are suspended or entirely eliminated because of a lack of funding. One way some agencies in need of funding can keep their programming going is by forming relationships with nationally known for-profit organizations. In exchange for the funding, the for-profit organization can promote or market how it helps the nonprofit's constituents. This is a cause-marketing partnership, and initially it sounds wonderful!
However, imagine if the for-profit organization you wanted to further develop a partnership with was involved in controversial practices or behaviors incompatible with your organization's values (e.g., unhealthy diets, risky sexual behaviors); that is, if the broader practices of the for-profit organization fall in a fuzzy, blurred area of ethical concern. You need its donations in order to continue to provide beneficial programs to your community. So, what do you do? How do you go about evaluating the effectiveness of and developing cause-marketing relationships?
Following is a case study about a cause-marketing partnership between a nonprofit recreation organization, Special Olympics, and a for-profit business, Hooters restaurant, which is known for its controversial practices. Before exploring this cause-marketing partnership, let's examine the definition of cause marketing and the strengths and limitations of entering into this type of relationship.
Cause Marketing Defined
Cause marketing is the cooperative effort between a for-profit business and nonprofit organization designed for mutual benefit. The cause-marketing trade-off, or win-win situation, is that the nonprofit organization gains funding and the for-profit organization gains a humanistic image, while both are involved in community interaction. For-profit organizations use cause marketing as a public relations strategy to enhance their brand. In Cause Marketing for Nonprofits: Partners for Purpose, Passion, and Profit, author and a recognized authority on cause marketing, Jocelyn Daw, reported that one of the first successful cause-marketing partnerships occurred in 1983 when American Express agreed to dedicate a penny every time an American Express card was used, or a dollar each time a new card was issued, to the Statue of Liberty Restoration project — $2 million was raised in four months. As a result, American Express transaction activity jumped 28 percent, demonstrating that community engagement was good for business.
Often, in their zeal to aid and support people who are marginalized and to expand their mission, nonprofit organizations, including nonprofit recreation agencies, will begin a cause-marketing relationship aware of the immediate benefits. Chief, of course, is how the monetary/economic benefit from the for-profit organization will help a social purpose. What is sometimes overlooked by nonprofit recreation agencies are the negative outcomes of cause marketing, such as increased commercialization and poor sponsorship/agency fit or incongruence between the mission of a nonprofit organization and the brand image of the for-profit organization.
There is evidence that market-based approaches to nonprofit management, which includes cause-marketing frameworks, often lead to "mission drift" and conflict among nonprofit agencies because of the demands and branding image of corporate stakeholders. In addition, engaging in cause marketing with large, for-profit organizations can be problematic for the nonprofit and lead to being manipulated or even exploited, based on the terms of the arrangement.
Case Study: Hooters Restaurant and Special Olympics
Hooters restaurant is famous for its spicy chicken wings, beach-theme environment, television sport spectator programming and Hooters Girls. Hooters also has been actively involved in sponsoring sporting events, such as arena football, NASCAR and its highly successful developmental men's golf tour, and purports to be focused on reaching out to various communities through philanthropic efforts. According to the company's website (https://www.hooters.com/Company/DidYouKnow.aspx), since 1992, the Hooters Community Endowment Fund has raised more than $8 million for local and national charities and sporting events.
Special Olympics is an international organization and sport competition held every two years for people with disabilities. In 2008, nearly 3 million Special Olympic athletes from more than 180 countries around the world competed. The mission of Special Olympics is to provide year-round sports training and athletic competition in a variety of Olympic-type sports for children and adults with intellectual disabilities, thus allowing these individuals opportunities to develop physical fitness, skills and friendships within a community (www.specialolympics.com).
Hooters restaurant has supported Special Olympic programs through philanthropic funding for many years: in 1998, Special Olympics Florida received a $15,000 donation from a Hooters restaurant; during halftime at the Eighth Annual Central Florida High School Football All-Star Game in 2005, Hooters Girls were partnered with senior high school football players to present Special Olympics Florida with a $1,100 donation; and in 2009, a Hooters restaurant of Central Carolina donated approximately $20,000 to the Special Olympics of North Carolina. Special Olympics North Carolina (2009) website listed eight Hooter restaurants in different cities (e.g., Burlington, Greensboro) where Hooters Girls raised a mile of quarters for Special Olympics.
At face value, a number of ethical questions can be raised about this cause-marketing relationship between Special Olympics and Hooters restaurant. The most obvious question being: Should Special Olympics want to develop a sponsorship relationship with an organization that has garnished controversy related to sexually objectifying women by having them connected to a sex-worker framework and having suggestive elements related to sexual arousal? On a deeper ethical level, does Special Olympics become a vehicle for the proliferation of women being sexually objectified if it partners with Hooters restaurant? Is Hooters restaurant exploiting people with disabilities in order to create a public relations campaign in this cause-marketing relationship and is Special Olympics implicated?
How to Build Better Cause-Marketing Relationships
There are five steps nonprofit recreation leaders should follow to build better cause-marketing relationships:
Carefully evaluate the fit of the cause-marketing partnership: Nonprofit recreation agencies should develop a pros and cons list when contemplating entering into a cause-marketing arrangement. If there are too many cons related to developing a cause-marketing partnership, such as incongruence between the mission of a nonprofit agency and the brand image of the for-profit organization, the nonprofit organization can turn down the donations. For example, in 2006 the Chronicle of Philanthropy reported how the Vermont chapter of the Boys & Girls Clubs declined donations from a local Hooters restaurant because this youth-serving nonprofit organization did not want to be linked to the sexual objectification of women and its connection to unhealthy body image.
Proceed with caution: Nonprofit recreation agencies should proceed with caution when advancing any type of corporate sponsorship, including a cause-marketing arrangement, and they should never be developed as a quick solution during tough economic times. Cautious actions can entail setting up short-term contracts, a trial period, or taking an incremental approach.
Utilize advisory groups to evaluate the potential sponsor: Nonprofit recreation organizations can create a citizens advisory committee to explore and evaluate commercial sponsorships/cause-marketing arrangements. This ensures a more complete evaluation of the potential corporate sponsor, including fit with the organization's mission and values and how palatable the sponsor is to the agency's public (e.g., residents, board members, staff, other sponsors). For example, and connected to the Hooters restaurant donation to Special Olympics at the Eighth Annual Central Florida High School Football All-Star Game, a citizens advisory committee for Special Olympics could raise ethical questions, including the appropriateness of pairing adult, sexualized Hooters Girls with senior high school football players who are often adolescents still under the age of 18.
Thoroughly vet the potential sponsor: Nonprofit recreation agencies can use mainstream media searches and examine professional journals and magazines to detect any potential controversial aspects related to the for-profit agencies with whom they might partner. Resources such as Lexis/Nexis (a searchable database of news, trade and professional publications), Google Scholar and other news searches on the internet can help uncover possible issues that lead to more informed decisions. For example, in a Gender, Work and Organization article titled "Who's Got the Look," authors Chris Warhurst and Dennis Nickson explain with clarity, depth and breadth how Hooters restaurant creates an explicit sexualized labor environment, which eventually can harm women (e.g., demeaning sexual behavior, sexual harassment). In addition, a 2007 American Psychological Association (APA) report on the sexualization of girls in America (www.apa.org/pi/wpo/sexualization.html) outlines how men can also be psychologically harmed when they view women as sexual objects.
Use an "ethical reasoning" approach to evaluating sponsors: Ethical reasoning is a strategy for thinking that specifically focuses on the well-being of others by understanding how individual or organizational actions can harm them. Developing ethical reasoning skills, either through independent learning or attending a workshop or in-service training, can help nonprofit recreation leaders understand the far-reaching harm that can occur when committed to a cause-marketing relationships. For example, by using ethical reasoning, nonprofit recreation leaders, such as those involved in Special Olympics, could have asked themselves if, by partnering with Hooters restaurant, does Special Olympics become a vehicle for the proliferation of women being sexually objectified? Or, does this proliferation of women being sexually objectified increase when someone goes to a Special Olympics website, clicks on the Hooters restaurant sponsor link and is then directed to the official Hooters restaurant website that has an image of a Hooters Girl sitting on a snow model in a bikini while striking a suggestive pose? Likewise, although Hooters restaurant is providing needed funding for Special Olympics programs, could this cause-marketing partnership be viewed as Hooters restaurant using — and possibly even exploiting — people with disabilities in order to create a public relations campaign?
Be Prepared
What if after having taken these steps to build an effective cause-marketing relationship, the for-profit organization you've chosen to partner with is the focus of bad publicity — what if that partner was United Airlines, which currently is experiencing an incredible level of negative publicity for the way it chose to handle and respond to an overbooking situation? Benjamin Franklin, one of the Founding Fathers of the United States, is quoted as saying: "It takes many good deeds to build a good reputation, and only one bad one to lose it."
In an article titled "Negative Publicity: Do Nonprofits Have a Plan?" that was published in the 2000 November/December issue of Nonprofit World, professor Dr. Prema Nakra, advises nonprofits to be prepared to handle negative publicity (https://www.snpo.org/verizon/V180630.pdf). Moreover, she asserts that it is important to establish good relations with the press, anticipate potential problems that may arise from the cause-marketing relationship and have a plan in place before a controversy happens that might affect your organization's image.
Detailed references for this article are available at www.parksandrecreation.org/2017/May/Building-Better-Cause-Marketing-Relationships.
Taryn L. Kuntz, MA, is Executive Director of Development at the University of Iowa Stead Family Children's Hospital at the University of Iowa Foundation.
Rodney B. Dieser, Ph.D., CTRS, LMHC, is a Professor in the School of Kinesiology, Applied Health and Human Services at the University of Northern Iowa.