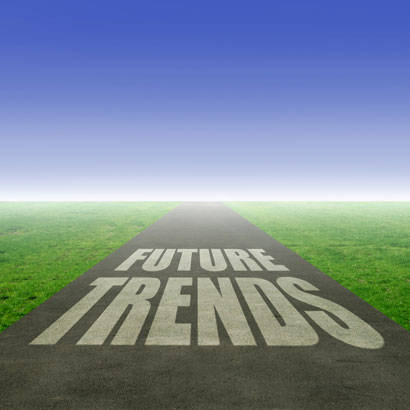 Like most innovations, the creation of the Future Trends Team within the Tualatin Hills Park & Recreation District (THPRD) was generated by several recognized organizational needs. We were looking to encourage growth and development among staff recognized as strategic thinkers. We wanted to cultivate an environment of being a learning organization that supports innovation. And, we recognized that we operate in an environment of continuous change and we should identify long-term trends driving this change. By identifying the trends, we believed we could get ahead of the change rather than just react to it. Out of these recognized needs, THPRD developed an internal think tank of futurists in training, and the team continues to evolve much like the trends it researches.
How We Work
Keith Hobson, THPRD director of Business & Facilities, had the idea to assemble the Future Trends Team in October 2011. In forming this team, he identified staff who he believed had the necessary creativity and strategic thinking. While he strove to get members from departments throughout the district, his first priority was members who could positively contribute to the team's charge (to step back from day-to-day operations and identify impacts of "mega trends" for the next 10 to 20 years) and who had capacity to take on an intensive new commitment. The team ranges from nine to 12 members, and as some participants cycle off the roster during the annual summer hiatus, new recruits join to ensure fresh blood and allow greater opportunity for insights from the team to take hold throughout the organization.
This cross-functional team thrives on diverse viewpoints, encouraging a healthy dose of skepticism by assigning an official devil's advocate at each meeting to help prevent groupthink and continually challenge us to stretch our assumptions. Other key meeting roles include an "agenda cop" to help keep discussions productive and a scribe to record them for future reference.
We identified and organized research around the following macro trends:
Globalization
Generations and demographics
Climate change
Energy
Technology
Organizational structure and leadership
Dissemination of information and connectivity
Infrastructure
Why the Team Works
We have researched the importance for organizations to stay nimble and flexible in a constantly changing world, and we apply the same principle to our team. By taking a hard look at bumps in the road, we maintain the core elements that make our team work (humor is a must in each meeting) while tweaking or replacing those that do not (too many small groups doing different readings does not make for fruitful discussion).
One challenge is covering agenda topics while still allowing tangents to spark creative thoughts. A seemingly throwaway comment once triggered a real change when a member joked that THPRD's annual all-staff meeting should feature presentations about staff failures instead of the usual staff successes. After a lighthearted moment, the potential of such an idea sank in. After all, we had researched organizations that embraced failure as a path to innovation. As a result, Staff Innovation presentations debuted at the next annual meeting, and, to this day, they still replace the old success stories on the agenda.
In our quest to maintain a 20-year perspective, another hard-learned lesson is the importance of not getting too operational. We emphasize this for two reasons. First, we wanted to encourage innovation within the normal management structure of the district and did not want the responsibility for operational innovation to be outsourced to our team. Second, and more important, the time horizon for future trend analysis is 20 years and beyond, and allowing operational thinking into our discussions limited us and shortened our time horizon. Research and discussions may spark an idea for members to pursue in their departments, but the emphasis lies in envisioning what the future may mean for society and the world at a high level.
Benefits of an Internal Think Tank
Future Trends Team participation requires research and helps members sharpen their critical thinking skills. This type of intellectual discipline encourages evidence-based decision-making, even outside of team activities. For example, our early discussions of generational trends and rapidly changing demographics helped THPRD expedite the process of creating a position for equity and inclusion, undergoing an internal diversity climate survey, and rolling out a road map and equity council based on the survey results.
Cultivating a long-term perspective has also benefited THPRD's succession planning. By participating on a team that embraces productive conflict and encourages diverse views, we learn and practice important communication skills. Exposure on the team has helped identify future leaders, increasing their internal network and giving them a foundation for growth.
Future-Focused Strategic Planning
How does a future-focused team conduct strategic planning for itself? For starters, we are transitioning from being product-oriented to being more process-oriented. Instead of producing reports from our research, we will begin to share our meeting minutes as a record of topics and insights. For even greater transparency, we will make our research resources available to all staff so they can follow along with the themes.
We also emphasize truth-checking our past projections. By comparing the actual outcomes of a trend with what the team had expected to see, we can continuously improve our own predictive skills. In 2015, we revisited the original 2012 report and refreshed it with new data, identifying two new macro trends — infrastructure and the dissemination of information and connectivity — in the process.
Of course, environmental scanning never stops. Some trends identified in the team's infancy have already reached the mainstream; for example, augmented reality recently took the park and recreation industry by storm through Pokémon GO." We have our work cut out for us to stay ahead of the frontier. Research and discussion topics for this year include cyber security, intergenerational equity, environmental justice, biotechnology and new forms of commerce and education.
After that, who knows what the future may hold? THPRD's Future Trends Team looks forward to finding out.
Keith Hobson is the Director of Business and Facilities at Tualatin Hills Park & Recreation District. Katherine Stokke is the Operations Analyst at Tualatin Hills Park & Recreation District.