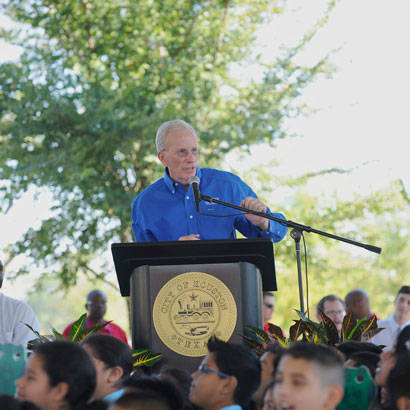 Joe's enthusiasm and dedication to parks and recreation is nothing short of extraordinary. On behalf of everyone at NRPA, I want to thank him for his time and contributions to the organization and field. — Barbara Tulipane, CAE, NRPA President and CEO
I've known Joe and worked with him on park projects long before I became mayor. He's worked for three mayors, stewarding and shaping Houston's park system of over 37,800 acres — always with a limited budget. His ability to leverage partnerships, grants and conservancies to create an outstanding park system can be seen in projects all across the city. As mayor, I want to thank him for showing us what a public servant should be. We will miss him. — Mayor Sylvester Turner, City of Houston

This month, Joe Turner retires from his position as director of the Houston Parks and Recreation Department, bringing to an end a storied career marked by thoughtful innovation, creativity and an irrepressible spirit, and guided by an unwavering belief that parks change lives.
Turner's career has been highlighted by accomplishments far too numerous to list, but which include the creation of the Playgrounds Without Limits program to provide playground accessibility for physically challenged children, the restoration of the historic Emancipation Park, the establishment of Re-Plant Houston in response to a withering drought, and the renovation of Shady Lane Park in partnership with NRPA's Parks Build Community initiative.
Turner's impact on the lives of Houstonians will be felt for generations. And, because of his dedicated work as an NRPA board member and with numerous other park organizations, his positive influence extends far beyond Houston's city limits. His work has elevated a profession.
We caught up with Turner for a candid and wide-ranging conversation. Among other topics, he shared his career's most rewarding moments and greatest challenges, offered some thoughtful guidance to aspiring park and recreation leaders and outlined his vision for the profession's future. The entire interview appears below.
Parks & Recreation magazine: Looking back, when did your passion for parks and the natural environment first develop?
Joe Turner: I grew up out in the country, or "in the woods" as I prefer to say. As a kid, I spent many a day just enjoying the outdoors, as kids don't do today. My dad was an avid fisherman. If he had a day off, you can be sure that we would spend it fishing as a family.
Since my parents worked, I would often go to my grandparents' house after school. They lived on a couple of acres. My grandmother ran a little nursery and my grandfather grew tomatoes and strawberries, which we sold by the side of the road.
So I've had a love and appreciation for nature and the outdoors for as long as I can remember.
P&R: You began your career in business. How did you come to the field of parks and recreation?
Turner: I spent 30 years in the fast-food business, ultimately becoming a franchisee with four Burger King restaurants. As my kids grew up, it became clear that they didn't want anything to do with the business, so we sold the restaurants and I began to look for something new, something that was different, but would let me use the management skills I had developed.
I sent out some letters and Harris County Commissioner Jerry Eversole, who I knew, responded and asked me if I wanted to be a park administrator. I said 'I don't know. What does one do?' I learned that the position really paralleled multi-unit management, so I took it.
I enjoyed the work immensely. We worked hard to expand the system, acquiring land through a variety of partnership arrangements. The creative aspect of putting these deals together was appealing to me. We used to say, 'Anybody can buy land; we figure out how to get it for free.'
In 2004, Houston Mayor Bill White contacted me to interview for the city's parks and recreation director position. What was to be a 30-minute interview turned into an hour-and-a-half-long conversation. I walked out and immediately called my wife, saying, 'I hate to leave Jerry, but I am going to work for this man. I understand what he wants and this is going to be a great job.' And I was right — it's been a great run.
P&R: You have done so much for the city of Houston. Which of your accomplishments are you the most proud of?
Turner: Personally, I am very proud to have served under three mayors. They were very different, with their own personalities and philosophies, but each believed in Houston's park system and worked diligently to help us fund it.
As far as specific projects, I am very pleased to have played a role in restoring the historic building that is now our corporate offices at Gragg Park. It was the NASA Manned Spacecraft Center headquarters in the early 1960s. On September 12, 1962, President Kennedy prepared himself in this building for his famous speech at Rice University about the space program. We gutted the structure, put it back together and received National Landmark status and Gold LEED Certification on it at the same time.
I am also very proud of the renovation of Emancipation Park, the oldest park in the city, dating back to 1872 when the land was purchased by four freed African-American slaves to celebrate the Emancipation Proclamation. We're restoring the park's historic buildings and creating a new recreation center, among other things.
Finally, I would be remiss if I didn't mention the renovation of Shady Lane Park with NRPA and its Parks Build Community initiative. It has been a wonderful success and perfectly illustrates how a park can completely revitalize a neighborhood.
P&R: What were the biggest challenges you faced as Houston's Parks and Recreation Director?
Turner: I'll answer the same way I imagine every parks director would: funding. It's a constant struggle. In 2011, we went through a drastic budget cut and I had to let go 125 employees. It was an extraordinarily difficult day; I spoke face-to-face with virtually every one of those men and women. It is something I'll never forget.
The other one would be the drought we went through about six years ago. We lost untold numbers of trees—we took down 30,000 trees in one park alone. But it ultimately allowed us to build a better system that has taken us back to where this area originally was ecologically, when much of it was gorgeous grassland and open prairie. We still plant trees, if course, but we are much more selective and thoughtful about it.
P&R: What did you enjoy most about the day-to-day work?
Turner: Tuesday afternoons, without a doubt. That's when our city council conducts a public session. Unless I have a particular issue, I don't have to be there. I know where all the council members and the mayor will be. So we go out and "ride parks." I can observe projects under construction, visit with my team or meet face-to-face with citizens that have an issue with the park system. The people are what make it fun. Tuesday is the greatest day of the week.
P&R: During your long career, what have been the most significant or interesting changes you have witnessed in the field of parks and recreation?
Turner: I think there's been an increased appreciation and demand for green space, across demographics and across income levels. There's also been a movement to use trail systems not only for transportation within our parks, but also as an alternative way to move people throughout our cities' urban cores. Overarching all this is a growing realization that parkland needs to be more equitably distributed within our communities.
P&R: You are an NRPA board member and have volunteered your time and expertise to numerous other boards and organizations impacting the industry. What is your motivation for giving back to parks and recreation?
Turner: It's all about getting kids outdoors and helping them develop an appreciation for the natural environment. If we don't plant that seed in our children, they'll never develop an attachment to the land. And if there's no attachment, they won't protect it.
This is something that organizations like NRPA understand and it's why I volunteer. It's been some of the most rewarding work of my career.
P&R: What advice would you give to those who aspire to follow in your footsteps to assume a leadership position in parks and recreation?
Turner: You need to have vision. You have to understand where you want to move a system, not just for yourself, but for those who will follow you, because parks are forever — or at least they should be. Speaking more pragmatically, forge relationships with developers. Those relationships can help you grow your park system, often in ways you don't have to pay for, especially if you're present at the front end of a project. Also, don't be afraid to dig into legal contracts. Public-private partnerships are only as good as the contracts that create them. No matter how good your attorneys are, they aren't park professionals — you need to tell them what you want a contract to accomplish, and then you have to carefully review it to make sure it is written as you instructed. Finally, you need to understand and always be mindful of this principle: neighborhood parks change lives.
P&R: How would you like to be remembered?
Turner: As a guy who tried to make our parks better. That's it. I don't need recognition for what I've done.
P&R: What do you envision for the future of parks and recreation? Are you optimistic?
Turner: On one hand, the public — no matter the income level, no matter the demographic — has never placed a higher value on what our industry provides. But on the other hand, you have the challenge of funding, and I don't see that getting easier any time soon. However, I am optimistic. I'm confident that the creative minds in our field will continue to come up with clever ways to get these projects done. If you mentioned public-private partnerships eight or nine years ago, nobody would have known what you were talking about. So we'll evolve and we'll get there. I have no doubt.

Tom Dellner is a Freelance Writer, based in Dana Point, California.