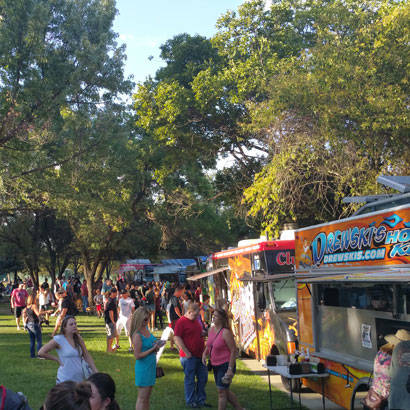 Foodies in Northern California prepare their appetites for a mouth-watering safari at Folsom City Lions Park every month. The City of Folsom Parks and Recreation department and Sacramento Mobile Foods (SactoMoFo) joined forces in 2014 to bring some of the best gourmet food trucks from all over Northern California together for a free, family-friendly event. On the third Wednesday of each month, the park — which is adjacent to the Folsom City Zoo Sanctuary — is home to the Food Truck Safari, and is chock-full of delicious food, live music and fun events for kids.
This event, which features more than 10 food trucks and draws up to 2,000 people every month, is a way for the city to bring awareness to its zoo, parks and the programs offered, as well as to tap into a market of people who come from out of town for the event. "Our goal is to reach new markets and promote our activities, events and facilities to people we may not normally reach," says Chuck Harrison, community and cultural services manager for the City of Folsom Parks and Recreation department. The Food Truck Safari includes booths from community partners, such as the zoo and local library, to inform guests about programs in the city that they may not have been aware of otherwise.
The park and recreation department provides the use of City Lions Park — which has picnic tables, benches, playgrounds and shelters — for the event and SactoMoFo provides the food trucks and entertainment. "It's a great opportunity for families to come out and have some food, listen to music, socialize and let the kids run around and play," says Harrison. He adds that there are a lot of great things to do at the event, but of course, the focus is on the food.
Entry into the event is free to the public, with the only cost being whatever array of scrumptious eats and tasty treats patrons choose to indulge in. Many of the food trucks also offer vegetarian, vegan and gluten-free options for diners with specific dietary needs.
"It's become a very well-attended, well-received event," says Harrison. "The local community knows to expect it every month, and they make plans for it as a nice family outing."
— Cort Jones, Associate Editor of Parks & Recreation magazine