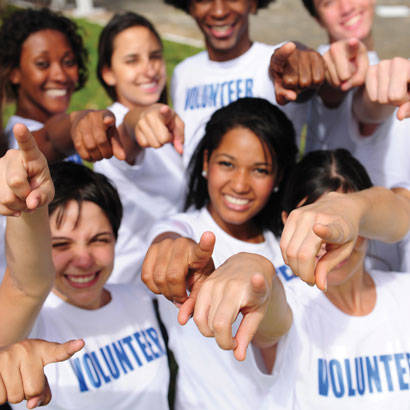 The perks of volunteering are numerous — résumé building, network growth, getting that "feel-good" feeling. NRPA has made volunteering even easier (and more fun) with its new volunteer platform. Being part of the NRPA Volunteer Pool means that you are interested in learning about future volunteer opportunities available through NRPA Connect. When you opt in to the pool, you will receive email alerts as soon as a new opportunity opens up that matches your qualifications and interests.
Here is how to get started:
Opt In to the NRPA Volunteer Pool
Opting in is easy. To be added to NRPA's Volunteer Pool, log in to NRPA Connect, and under the volunteer tab, click "Opt In to the Volunteer Pool." Then, when new opportunities come up, you'll be the first to learn about them. Once opted in, you can, of course, suspend your request at any time. Simply set the "Invite me to volunteer when opportunities match my expertise" toggle from "Yes" to "No" on your volunteer profile, and you'll no longer receive invitations.
Complete Your Volunteer Profile
Completing your volunteer profile will help us know what kind of volunteer opportunities you are qualified for and interested in and be better able to match you with future volunteer opportunities. You can also opt out of receiving any future communications about opportunities from your volunteer profile.
Open Opportunities/Volunteer Points
Check out and consider volunteering for the opportunities now open! The full listing of volunteer posting is available through the Volunteer Opportunities List. For each volunteer opportunity you complete, you will be awarded points based on the length of task and the experienced level required. You have the opportunity to earn three different badges — Ambassador, Champion and MVP — depending on your volunteer points.
Have questions about getting involved? Email Hayley Herzing at hherzing@nrpa.org.