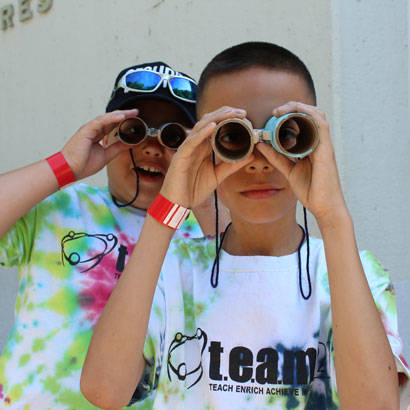 As providers of educational and enrichment activities for children before and after school and over the summer months, park and recreation agencies are well positioned to receive federal grants administered by the U.S. Department of Education to support programming. The Every Student Succeeds Act (ESSA), signed into law by President Obama in December 2015, reauthorized the nation's education law and included a reauthorization of the 21st Century Community Learning Centers (21st CCLC) program, among many other educational grant programs administered by the department. While the 21st CCLC program was reauthorized, it is subject to annual appropriations (funding) by Congress. As the new administration and Congress sets out to establish new spending goals for our nation, it is critical to protect the funding available for 21st CCLC and similar programs.
What is 21st CCLC and is my park and rec agency eligible?
The 21st CCLC program supports the establishment of local community-based educational programs for children in out-of-school time settings, particularly for low-income areas. Centers are encouraged to focus educational curriculum on math and science and to offer enrichment activities that add to the academic education children are receiving during the school day.
Funding used by 21st CCLC programs also often helps to leverage other federal funding, such as the Summer Food Service Program and the Afterschool Nutrition Program. By offering programming along with meals, children are more likely to stay engaged and benefit from both the enrichment and nutrition offered at sites.
Park and recreation agencies are ideal organizations to receive this type of funding. Varying curriculums, such as nutrition education and the Wildlife Explorers program, already offered by park and recreation agencies are excellent examples of activities that would meet the eligibility requirements of the grant program. In addition, for those agencies serving summer and afterschool meals, 21st CCLC funding creates a significant platform on which to build out the meal programs.
Why is 21st CCLC now at risk of losing funding?
In March, President Trump released an outline of his administration's budget for fiscal year 2018 (October 2017–September 2018) for non-defense discretionary programs. Included in this outline was a complete elimination of 21st CCLC, along with the elimination of other significant funding streams, such as the Community Development Block Grant (CDBG) program.
Fortunately, since the release of the administration's spending priorities, there has been significant push back in the media about elimination of such funding. Even more interesting, when the final budget agreement for fiscal year 2017 was passed by both the House of Representatives and the Senate in early May 2017 to fund the government through September and avoid a government shutdown, it included a $25 million increase to 21st CCLC.
This signals that Congress may not be willing to match the administration's spending priorities and that there is now an opportunity to support the development of a congressional budget for fiscal year 2018 that protects 21st CCLC.
What can my agency do to help?
As the budget debate continues this summer, educating members of Congress on the use of these funds locally will be critical. If your agency is currently receiving this funding, or has in the past, we encourage you to demonstrate the impact these funds have had on the development of your programming.
For agencies that have not yet accessed these funds, showcasing the groundswell of support by increased interest and applications to receive the funding will greatly assist in making the case that the program must be continued.
Learn more about the work being done nationally to protect 21st CCLC. To find out who in your state is currently operating 21st CCLC, or how your agency can get involved, connect with your Statewide Afterschool Network.
The NRPA Public Policy Team encourages you to share your agency's story about your use of 21st CCLC funding with the team to be used in its upcoming advocacy around this issue. Send your story to our Government Affairs Manager, Kate Sims.
Kate Sims is NRPA's Government Affairs Manager.
Spotlight Agency:
City of Wyoming Parks and Recreation Department (Michigan)
T.E.A.M. 21 is a phenomenal program that has transformed the lives of more than 7,700 youth and their families in our community. In addition to cultivating a love for learning and exploration, T.E.A.M. 21's year-round programming helps students make and keep friends, improve their grades and learn new life skills. The city of Wyoming is proud to partner with four of our local school districts to make this program possible, and we wouldn't be able to achieve such great success without 21st Century Community Learning Center funding. — Mayor Jack Poll, City of Wyoming, Michigan
Since August 2004, the City of Wyoming Parks and Recreation Department (Michigan) has partnered with several Wyoming-area school districts to run T.E.A.M. 21 (Teach, Enrich, Achieve and Move).
Wyoming Public Schools acts as fiduciary for funding; Wyoming Parks and Recreation Department oversees staffing and programming, which amounts to 75 percent of the overall funding being administered by the parks and recreation department.
Present annual grant funding received is approximately $2 million overall for the current 15 area schools, where the program operates with students ranging from kindergarten to ninth grade.
Two-thousand students across four school districts were served by the program last year.
Summer and afterschool meals and snacks are served at all sites, and transportation is provided for students in the program.
Educational and enrichment activities emphasize a focus on academic instruction and enrichment, social and emotional growth, and health and wellness.
Consistent, caring adult staff plan and facilitate activities to engage and mentor students during afterschool and summer hours, when many students are in need of safe, supervised places to learn and grow.