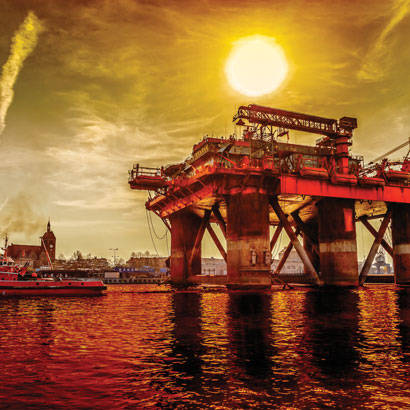 For those of us who closely follow the Land and Water Conservation Fund (LWCF) State Assistance Program, there's very important news regarding funding for this critical conservation and recreation priority. And, it comes as a result of an energy law passed back in 2006.
The LWCF is funded through revenues generated from oil and gas exploration in federal waters along the Outer Continental Shelf (OCS) of the Gulf of Mexico. Therefore, LWCF is NOT funded at the expense of the individual taxpayer, but rather through lease and production fees paid by energy companies. These fees (in the billions of dollars) are collected annually, but are NOT guaranteed to the LWCF, which is authorized to receive up to $900 million each year in support of its broad portfolio of federal and state land acquisition and conservation initiatives, including State Assistance. Congress must still act each year to determine exactly how much funding is "appropriated" to the various LWCF programs — 2016 saw total LWCF dollars reach $450 million with State Assistance receiving a major increase to $110 million. Both amounts represent the highest funding levels in more than a decade.
What Is GOMESA?
While the LWCF Act is more than 50 years old, the focus of this column is on a much more recent Gulf Coast energy law, known as the Gulf of Mexico Energy Security Act of 2006 or "GOMESA." This law was enacted in the aftermath of Hurricane Katrina and, in return for opening up additional parts of the Gulf of Mexico to energy exploration and production, allows four states — Louisiana, Alabama, Mississippi and Texas — to share significant oil and gas revenues produced in the federal waters located off their coasts. In an effort to make the proposed law less of a parochial "Gulf Coast" initiative, the measure included a mandate that a portion of the overall revenues generated go to the State Assistance Program so each state could benefit from these new OCS funds.
It's important to note that this mandate means that the GOMESA revenues that are identified for LWCF State Assistance are guranteed and not subject to annual congressional approval and designation (appropriation)! Furthermore, the law included tight "caps" on the annual payments for the first 10 years, a move that facilitated bipartisan passage by lowering the measure's impact on the federal deficit. So, although GOMESA has helped fund the State Assistance Program since its adoption in 2006, the amounts during the first decade (Phase I) of the program have been miniscule — for instance, a total of $85,972 was contributed in 2016. However, with the start of Phase II, the restrictive caps have come off and State Assistance will begin seeing millions of dollars in mandatory funding coming into the program, each year.
In fact, State Assistance will receive up to $125 million in mandatory funding annually. Compare that to the $110 million appropriated by Congress in 2016 and 2017 (highest amount in decades) and you can see why receiving up to $125 million in guaranteed funding each year can have a major, and lasting, impact when it's apportioned out to every state and territory in support of close-to-home outdoor recreation and conservation. A stream of dependable funding will allow states to truly plan how best to use their annual State Assistance apportionment.
While the maximum amount of annual funding that State Assistance may receive is $125 million, the Bureau of Ocean Energy Management (BOEM) — the federal agency in charge of administering annual OCS revenues — reports that GOMESA is not expected to generate that maximum level of funding for at least two or three years. The latest estimates project approximately $88 million in mandatory GOMESA funding will go to the State Assistance Program this year; that means, that amount will be included in the state-by-state apportionment in FY2018. NOTE: This amount, alone, is twice as much as the pre-2016 average of about $40 million being appropriated by Congress.
Finally, the president's fiscal year 2018 budget request takes aim at GOMESA in two ways: (1) eliminating the revenue-sharing portion of the program to the four Gulf Coast states and (2) suggesting the incoming revenues intended for State Assistance be "in lieu" of further appropriations by Congress. The president's budget would also effectively eliminate discretionary funding for the LWCF overall. This plan has been roundly criticized by Gulf Coast lawmakers and major environmental groups, as well.
NRPA has gone on record strongly opposing these and other major cuts to key federal priorities. We're explaining to the new administration that the GOMESA revenues were always viewed as "in addition" to whatever Congress appropriated to the LWCF, including the State Assistance Program, and not as a substitute for regular annual funding.
There is much more to share about GOMESA — and what it means for LWCF State Assistance. Learn more on the basics of GOMESA, by visiting the BOEM website.
NRPA will host an educational webinar, Tuesday, July 18, which will provide additional background and resources about this critically important component for funding the State Assistance Program. Learn more about NRPA webinars.
David Tyahla is NRPA's Senior Government Affairs Manager.