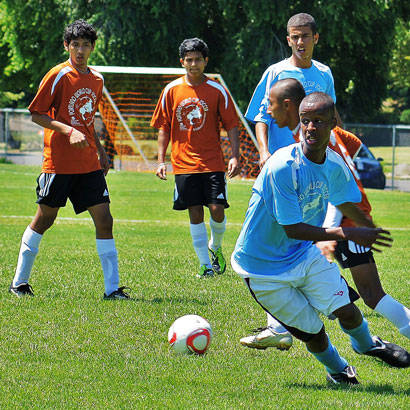 In 2010, Portland Parks & Recreation developed Portland World Cup Soccer — a tournament designed to welcome "New Portlanders," and celebrate cultural traditions and diversity in the Portland, Oregon, community. Now, eight tournaments later, all players are winners — gaining an increased sense of community, the strengthened intercultural bonds, connections to city resources, and the trust built between the city of Portland and its newest residents.
Held each June, the tournament is open to all New Portlanders between the ages of 14 and 21, all from different countries of origin. In 2016, there were more than 23 different languages spoken. This year, the tournament aligned with World Refugee Day. The overlap of these events was extra special, as Portland Parks & Recreation often partners with Portland's refugee and immigrant communities and groups to leverage and increase reach of city programs and resources. To celebrate the rich backgrounds of all tournament players, various cultural performances were scheduled, including an African fashion show. Also, Portland World Cup soccer players and coaches showcased a "Welcome" sign in several different languages to help create the sense of belonging and safety in Portland.
Portland Parks & Recreation uses soccer as the starting point to connect youth who are new to Portland programs, activities and services. From the tournament stems even more community involvement, like water safety training, the New Portlander Community Gardening project and a partnership with the city's MLS team, Portland Timbers, for a Timbers/New Portlanders soccer camp.
And if there's any doubt about the power of this event, earlier last year, the tournament was in danger of being cut from the city of Portland budget. But the community turned up for budget hearings by the hundreds and advocated strongly for keeping the valuable tournament. They shared the stories of how Portland World Cup soccer opened doors for them in their new home and created avenues to embrace city resources. The youth shared stories from their hearts — using no notes. Later in the month, the city council unanimously passed the budget — 5–0 — to keep funding for the tournament. This victory demonstrated to New Portlanders the power they have to work together and influence the governing of the city they now call home.
Maureen Acquino is Assistant Editor for Parks & Recreation magazine.