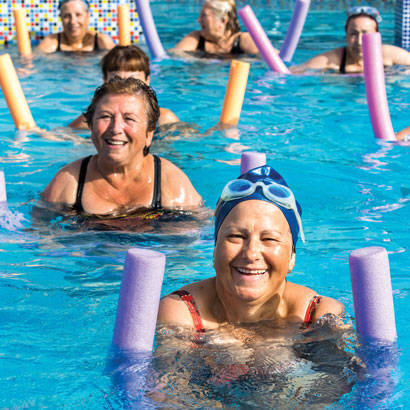 Today, our nation is more diverse with greater and contrasting needs and desires. Park and recreation agencies have had to change to ensure that all members of their communities are able to benefit from their vast holdings of open space, recreation facilities and service offerings. One area of growing interest is serving the expanding population of older adults.
According to the U.S. Census Bureau, 13.0 percent of the U.S. population was at least 65 years old in 2010. Just five years later, this percentage had risen to 14.9 percent or 47.8 million people. Population forecasts suggest that the size of this cohort will expand greatly in the coming years. The Census Bureau anticipates the 65-plus population will swell to 65.9 million, nearly 38 percent, between 2015 and 2025. This group will grow even further to 82.3 million by 2040, at which time it will represent 21.7 percent of the total U.S. population, and will be larger than the percentage of the population under the age of 18.
This month, NRPA is releasing a new research report that takes a look at how park and recreation agencies throughout our nation are serving this growing and increasingly important population. More than 520 park and recreation professionals responded to a 20-question survey sent out in May that explored park and recreation agency offerings geared to new older adults. What the survey findings tell us is that parks and recreation is a vital service provider to older adults, and yet there remains significant opportunity to do much more.
More than nine in 10 park and recreation agencies report that they offer facilities, activities and programming that cater to older adults. Nearly three-quarters of survey respondents characterize their agency as the leader, or one of the leaders, in providing services and programming geared to older adults.
These activities vary greatly, including providing older adults with chances to socialize with others, ways to stay healthy and active, and opportunities to serve others in their communities. Following is a list of activities that are among those most often geared to older adults:
Exercise classes (91 percent)
Field trips, tours, vacations (70 percent)
Arts and crafts classes (67 percent)
Opportunities to volunteer at recreation centers (58 percent)
Special events and festivals targeted to older adults (58 percent)
Group walks (53 percent)
Opportunities to volunteer in parks (48 percent)
Paid job opportunities to lead exercise classes, work in recreation centers or at parks (47 percent)
Where park and recreation agencies can make a real, lasting difference is in providing evidence-based chronic disease prevention and/or management programs that keep older adults healthy and active for years to come. Three-quarters of park and recreation agencies offer these types of programs for older adults in their communities, including those focused on enhanced fitness, diabetes management, living with arthritis and improving balance.
The wide breadth of service offerings for older adults from park and recreation agencies reflect the broad population served. This includes agencies following a wide definition of "older adults" when designing and marketing offerings — in many cases starting with adults as young as 50 years old. In fact, for their older adult programming, 44 percent of park and recreation agencies target adults as young as 50 years old, with another 40 percent of agencies targeting those 55 years old. Naturally, the needs and desires of 50 years olds can differ significantly from those of 75 year olds, yet it is critical that agencies serve both populations well.
Furthermore, park and recreation agencies may be unique in ensuring that the needs of underserved older adults are met. Agencies are a critical, lifesaving resource for lower income communities. They provide low-cost nutritional meals, transportation to and from senior centers, recreation centers and other needed services, and low-cost or free fitness programs.
Park and recreation agencies often develop programming for older adults with a number of key partners in their cities, towns and counties. To best serve this population, they typically partner with:
Area agencies on aging (58 percent)
Retirement communities (44 percent)
Senior meals providers (42 percent)
Hospitals and doctors' offices (40 percent)
Local health departments (39 percent)
Health insurance companies (38 percent)
Community-based organizations (e.g., YMCAs, faith-based) (38 percent)
But even with these partners, most survey respondents indicated that their agencies have hurdles that they must overcome before providing more services to older adults. Most of the challenges are the result of inadequate resources, including facility space shortages (58 percent), insufficient funding (50 percent) and inadequate staffing (40 percent). Presumably, these resource constraints will become even more acute as the older adult population grows and the demand for these services increase.
In many ways, these survey findings mirror those of a study NRPA conducted in 2016 on out-of-school time programs. That study highlighted how park and recreation agencies are valuable providers of child care that afford parents and caregivers the opportunity to earn a living. Those programs provide education about nature and nutrition, tutoring, mentoring and enrichment opportunities that improve the mental, physical and emotional health of youth. Here too, park and recreation agencies would be able to provide even more opportunities for the youth in their community if they gained greater access to resources.
Both program offerings are examples of how parks and recreation has a positive impact on people's lives, even as it means differing things to different segments of our communities. This diversity of service offerings highlights the strength of our field and the multitude of ways we improve our community every day.
Kevin Roth, Ph.D., is NRPA's Vice President of Research.