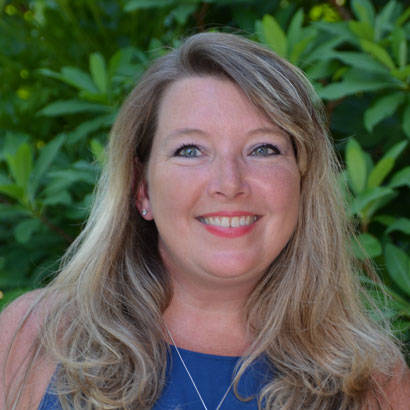 Wendy Waddle has found her home in the city of Rock Hill, South Carolina parks, recreation and tourism (PRT) department. Drawn into the department by the amazing people and fun atmosphere, Waddle has worn many hats over the past 25 years. In her current role as special populations supervisor, she can still say that she works with some of the greatest people in the business, and they are still having fun. As a bonus, Waddle says one of the strengths of Rock Hill PRT is that the employees are encouraged to share their talents, and her photography hobby has been embraced by the department, creating a niche role for her as the photographer at most events.
Parks & Recreation magazine caught up with Waddle to learn more about what keeps her engaged in our field.
Parks & Recreation: Prior to starting, what did you think would be the most challenging part of your job? What has in fact been the most challenging?
Wendy Waddle: I wondered how I would provide therapeutic recreation programs, some of them very large and time consuming, and still have time for an active and busy family life. Fortunately, many programs and activities the department offers are family friendly, and that has allowed my family to participate with me.
I have been working with youth and adults with intellectual disabilities for more than 25 years, and the challenge has been keeping the programs and events fun and exciting for everyone, myself included. I have found that when I feel like I am in a programming rut, I always turn to something arts based for inspiration.
P&R: What makes a successful park and recreation program?
Waddle: The Rock Hill City Council has adopted a strategic plan that places an emphasis on three main goals: to provide QUALITY service, develop QUALITY places and foster a QUALITY community. These goals influence all areas of the job. Within the department staff, members are empowered to develop goals, partnerships, programs and events that support the strategic plan. Rock Hill PRT is lucky to have partnerships with great organizations like Special Olympics, Rock Hill Schools, Winthrop University and the Rock Hill/York County Convention and Visitors Bureau, just to name a few. These partnerships help provide the best services possible for the Rock Hill community. In addition, having a great team of co-workers who support each other like a family throughout the good, busy and challenging times always makes the job easier and a lot more fun.
P&R: How does Rock Hill PRT use programming to engage the entire community?
Waddle: Rock Hill PRT emphasizes programming for its citizens of all ability and age levels. The BMX cycling program is a good example of this programming philosophy because participants as young as 18 months and as old as 84 years have participated in races at the Novant Health BMX Supercross track. While we offer many of the traditional youth sports programs, other outdoor adventure programs, Special Olympics, cycling and leadership programs are just as popular. When you invest in teenagers by teaching them to appreciate the outdoors, respect everyone and serve their community, you are producing future leaders in your community who will support your programs in the years to come.
P&R: Rock Hill PRT submitted the winning photo for the 2017 Park and Recreation Month Cover Contest. What does the photo convey about Rock Hill?
Waddle: Winning the contest was exciting because so many people and groups rallied behind Rock Hill PRT and supported the NRPA photo contest. The residents of Rock Hill and the surrounding area are overwhelmingly service and community minded and support the programs and events offered by Rock Hill PRT. This contest was a good example of how the community comes together for a great cause. Everyone from local friends and volunteers to international and pro BMX riders were involved with voting and sharing the contest. Everyone involved is really excited that the July cover will coincide with the 2017 UCI BMX World Championships being held in Rock Hill, July 25–29, 2017. Without the support of the Rock Hill community, all of our volunteers, partnerships and BMX athletes and their families, one of the other very worthy photos would have won the contest. We can't thank everyone enough. Visit rockhillSCbmx.com for more information about BMX's biggest event on the world's best track. Competition Lives Here!
Maureen Acquino is the Assistant Editor for Parks & Recreation magazine.