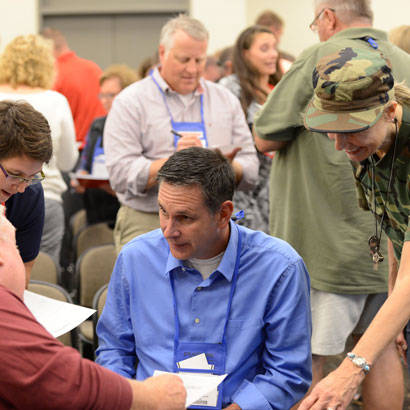 The 2017 NRPA Annual Conference is your best opportunity to network with thousands of your peers, learn from some of the top thought leaders in the field and get insight into innovative practices and programs from other agencies.
But, travel budgets can be tight, and even though 97 percent of past attendees would recommend the conference to their colleagues, it can still be difficult to convince your employer that your attendance is worthwhile to you and your agency. We want to see all of you in New Orleans this year, so we have put together some tips on how you can talk with your employer about the value of attending as well as some best practices when traveling to the conference.
Outline your trip. Let your employer know you're not going to be spending your days eating beignets at Café du Monde or making friends with the locals on Bourbon Street. Create an outline of the sessions you want to attend and how they'll support your work. Select sessions that are most beneficial to you, your team, community and your agency. Present this to your supervisors or those who are approving your travel. Maybe even promise to bring your supervisor a souvenir for good measure.
Prove the worth. You'll earn continuing education units (CEUs) at a majority of the sessions and pre-conference workshops you attend during the annual conference. Tally up the number of CEUs you'll receive, and show the value of attending and earning credits at a one-stop shop.
See and be seen. Face time with exhibitors can pay off. As you discuss your attendance, review the list of NRPA Annual Conference exhibitors with your employer and pinpoint any business opportunities that could develop from establishing connections with park and recreation professionals and partners.
Share the wealth. You are guaranteed to leave the 2017 NRPA Annual Conference inspired and filled with great ideas, so, when discussing your attendance at the event, commit to a post-conference presentation for your team, town council, board, etc. Plan to highlight what you learned and tie your training to your organization's challenges, goals and strategic plans. And, if you promise beignets, attendance is guaranteed to be high.
To further show your commitment to success, we've put together a justification letter template you can complete and submit to your employer. The letter outlines the sessions you plan to attend, the connections you'll make through networking, and a breakdown of the costs expected during your travels.
Our field depends on enthusiastic people like you to continue to learn, innovate and lead us into a bright future. Don't miss this opportunity to attend the largest park and recreation conference in the world.
Learn more about the NRPA Annual Conference. See you in New Orleans!