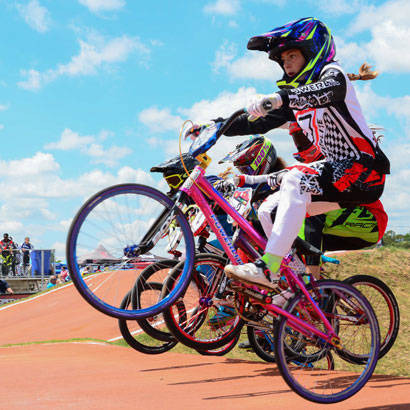 Stuart Brown, founder and president of the National Institute for Play, said in a 2009 New York Times opinion piece that "play-deprived adults are often rigid, humorless, inflexible and closed to trying out new options." We agree. And, this is just one opinion within scores of research that validates the importance of play for people of all ages.
That's why, this July, NRPA decided to focus Park and Recreation Month on the importance of play. Parks, recreation and play go hand in hand, and we would argue that there is no better place to play than your local park or recreation facility. Parks and recreation is on the front lines of addressing play inequities by identifying and finding solutions to problems like play deserts, lack of recreation opportunities and more.
To highlight the importance of play during Park and Recreation Month and to encourage the general public to seek out more play at their local parks and recreation, NRPA released an infographic demonstrating the power of play.
So, no matter how you get your play on, we encourage you to invite others to join in. By inviting others to climb, groove, throw, bike or swim, you're inviting them to lead a healthier, more fulfilling life.
Extreme Play
For the past three years, NRPA has hosted a cover photo contest, soliciting the best photos from around the field, narrowing them down to about a dozen finalists and putting them to a public vote. This year, we were thrilled with the winner as it's a perfect representation of the importance of play.
Submitted by the City of Rock Hill Parks, Recreation and Tourism Department in South Carolina, the cover photo features a national BMX race from April 2016 at its facility. The City of Rockhill Parks, Recreation and Tourism Department owns, operates and maintains the Novant Health BMX Supercross Track, which opened its doors in 2014. The facility is the first Olympic-caliber BMX training facility that's open to the general public on the East Coast.
Rock Hill was inspired to open such a facility in order to grow its amateur sports venues, which it has been developing since the mid-1980s.
"Constructing outdoor recreation facilities to include a world-class BMX Supercross Track and other cycling venues was part of a larger vision set forth by our mayor, city council and city management in an effort to expand the city's already successful amateur sports tourism niche beyond traditional sports like soccer, softball, baseball, tennis, etc.," says Laurie Helms, marketing coordinator for the City of Rock Hill Parks, Recreation and Tourism.
By hosting state, regional and national sports competitions, Rock Hill's amateur sports venues bring in millions of dollars to the local economy annually.
For example, the girl featured in the cover photo is 15-year-old Carly Kane — a BMX superstar and 2020/2024 Olympic hopeful. Carly and her family are from Guilford, Indiana, and specifically sought out competitions at Rock Hill to prepare for the UCI BMX World Championships being held there this July 25–29.
Carly got into BMX racing after watching her dad compete. They headed to a small, local track in Cleveland, Ohio, to give it a try, and she fell in love with the sport and has been at it ever since. Her love for recreation doesn't stop with extreme sports. Carly also enjoys visiting her local park and recreation centers to roller blade, play tennis and spend time with family.
"I love BMX because I love the adrenaline rush," Carly says. "I've always wanted to fly and it's the closest thing to flying."
You can catch Carly flying through the air on her Instagram account, @CarlyRacesBMX.
The City of Rock Hill Parks, Recreation and Tourism will be celebrating Park and Recreation Month by hosting the UCI BMX World Championships. The agency expects the event to attract about 3,300 riders from more than 40 countries. This event was last held in the United States in 2001 and will host the world's best riders, including Olympians.
Roxanne Sutton is NRPA's Communications Manager.