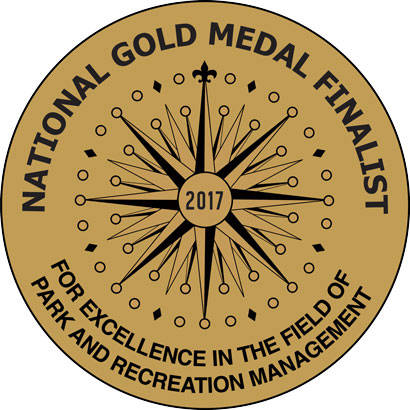 The American Academy for Park and Recreation Administration (AAPRA), in partnership with NRPA, is pleased to announce the finalists for the 2017 National Gold Medal Awards for Excellence in Park and Recreation Management. Musco Lighting, LLC has been a proud sponsor of the Gold Medal Awards program for more than 10 years.
Since 1965, the Gold Medal Awards program has served as a testament to the hard work and dedication of agencies that strive to meet the needs of diverse communities. The Gold Medal is a comprehensive award that looks at the many challenges agencies face and how they are leveraging resources to meet those challenges. This awards program includes seven classes: five classes based on population, one class for armed forces recreation and, in odd numbered years, one class for state park systems.
A panel of five park and recreation professionals reviews and judges all application materials. Judges are chosen for their considerable experience and knowledge in parks and recreation on both the local and national levels.
Excitement is building as the 28 Gold Medal Finalists prepare for the Grand Award announcement during the September 26, 2017 Opening General Session at NRPA's 2017 Annual Conference in New Orleans, Louisiana.
Please join us in congratulating the 2017 Gold Medal Finalists:
Class I (population 400,001 and over)
• BREC, Baton Rouge, Louisiana
• Johnson County Park & Recreation District, Shawnee Mission, Kansas
• Minneapolis Park & Recreation Board, Minneapolis, Minnesota
• Palm Beach County Parks and Recreation Department – Lake Worth, Florida
Class II (population 150,001 – 400,000)
• Arlington Parks and Recreation Department, Arlington, Texas
• Grand Prairie Park, Arts and Recreation, Grand Prairie, Texas
• Metropolitan Park District of Tacoma, Tacoma, Washington
• Tualatin Hills Park & Recreation District, Beaverton, Oregon
Class III (population 75,001 – 150,000)
• Arlington Heights Park District, Arlington Heights, Illinois
• City of Evanston Parks, Recreation and Community Services, Evanston, Illinois
• City of Mountain View Community Services Department, Mountain View, California
• Roswell Recreation, Parks, Historic & Cultural Affairs, Roswell, Georgia
Class IV (population 30,001 – 75,000)
• Alpharetta Recreation and Parks Department, Alpharetta, Georgia
• Bismarck Parks and Recreation District, Bismarck, North Dakota
• Lombard Park District, Lombard, Illinois
• City of Wheat Ridge Parks and Recreation Department, Wheat Ridge, Colorado
Class V (population less than 30,000)
• Glencoe Park District, Glencoe, Illinois
• Homewood-Flossmoor Park District, Flossmoor, Illinois
• Itasca Park District, Itasca, Illinois
• Town of Windsor Park, Recreation & Culture Department, Windsor, Colorado
State Park Systems
• Arizona State Parks & Trails
• Tennessee State Parks
• Washington State Parks and Recreation Commission
• Wyoming State Parks, Historic Sites & Trails
Armed Forces Recreation
• Marine Corps Ground Combat Training, Twentynine Palms, California
• MCAS Cherry Point, Cherry Point, North Carolina
• Fort Carson, Colorado
• Portsmouth Naval Shipyard, Kittery, Maine