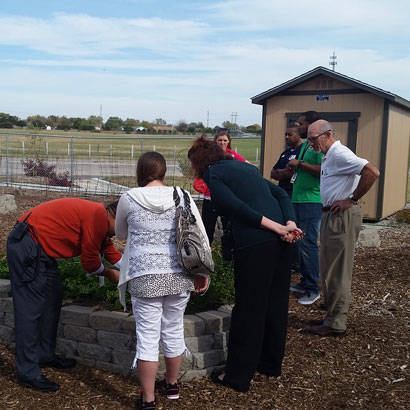 A healthy community doesn't happen by accident. With the numerous health concerns facing our nation, it is imperative for communities to assemble coalitions that represent multiple sectors to address these health issues. The Health & Wellness Coalition of Wichita (HWC) believes it takes partnerships and collaborations to make changes to the community environment and is working to ensure the entire community lives a healthy lifestyle.
HWC, which celebrated its 10-year anniversary in 2014, began with 16 members from 12 organizations who developed the coalition's mission and vision. Today, the coalition has more than 135 members from close to 100 organizations representing partnerships among public health, private business, municipal government, community advocates, planners, developers, schools and neighborhoods, and boasts a monthly newsletter distribution list of more than 8,000 individuals. Seven thriving subcommittees (Physical Activity, Healthy Eating, National Bike Month Planning, Annual Working Well Conference Planning, Working Well Think Tank Planning, Working Well Award Review and Healthy School) allow community members to be actively engaged in planning HWC's programs and policy initiatives.
Community leaders recognize that citizens can't move more or eat healthier foods without changes to local policies and the environment. Safe sidewalks, trails and bicycle lanes make it easier for people to incorporate physical activity as recreation and as a mode of transportation. Healthy food choices in school cafeterias and restaurants, well-supported food banks and neighborhood community gardens, and farmers markets offer options for healthier food. Making sustainable community change involves long-term partnerships, and the HWC serves as the vehicle to allow those partnerships to be established and community change to occur.
HWC efforts have led to the completion of three studies focusing on access to healthy foods in the Greater Wichita Area to help guide the work of Wichita's Food Policy Committee and the implementation of a Wichita Food Plan. The first report, Wichita Food Deserts: Why We Should Care, was released in 2013 and helped build awareness and understanding of the community's food situation. It revealed that 25 percent of residents, mostly in lower-income neighborhoods, live in a food desert. A year later, The Hurdles to Healthy Food Access report was released, and it took a deeper dive into understanding the obstacles faced when making food choices by those who live in food deserts. HWC, in collaboration with K-State Research and Extension, released the last report in 2015, Local Food System Assessment, which discusses barriers and opportunities for producing more fruits and vegetables in Sedgwick County and offers a vision for the future.
HWC's successes have been well documented, including leveraging more than $3.2 million to fulfill the mission of the coalition. A portion of this funding has been used to train the City of Wichita Planning and Public Works Department staff to develop routine accommodation policies and street design standards to support walking and biking. In addition, the city's decisionmakers have institutionalized the Bicycle and Pedestrian Advisory Board, which has representation from each district in the city and whose members are appointed by the city council. The board was vital in supporting the adoption and implementation of the Wichita Bicycle Master Plan and the Wichita Pedestrian Master Plan. Both Plans instruct city staff on how to ensure that multimodal forms of transportation are incorporated into the city's infrastructure through 2024.
In the Greater Wichita Metro Area, as well as in the state of Kansas, HWC has been instrumental in expanding worksite wellness initiatives. The coalition has hosted a Working Well Conference for the past 12 years that features national worksite wellness experts as presenters, provides a forum for networking and recognizes local worksite wellness champions through the Working Well Award. A major component of the conference is policy development for the workplace, aimed at creating a culture of health, as well as promoting the economic benefits of successful worksite wellness programs. Worksite wellness program sustainability and leadership are also key themes.
A key partner in HWC's mission to promote physical activity and healthy eating for every generation living in the Greater Wichita is the City of Wichita Park and Recreation Department. Since increasing access to physical activity and the built environment are the focus of many of the coalition efforts, HWC has formed a close working relationship with this newly accredited department. It was a natural partnership that will help improve the health of the community in the years to come.

Becky Tuttle, MA, is Project Manager at HealthICT at the Medical Society of Sedgwick County.