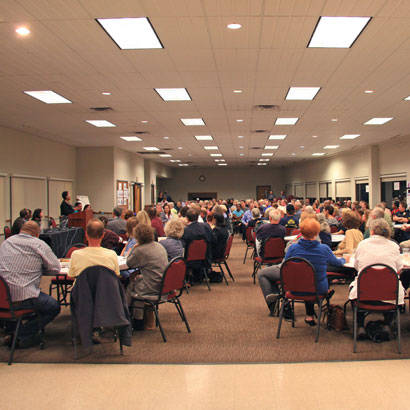 On July 6, 2016, 32-year-old African-American Philando Castile and his fiancé, Diamond Reynolds, were pulled over by Officer Jeronimo Yanez in Falcon Heights, an area bordering Roseville, Minnesota. According to reports, the traffic stop escalated into an out-of-control confrontation, resulting in the officer fatally shooting Castile. Officer Yanez claimed he stopped the two people because they fit the description of suspects in a convenience store robbery just a few days prior. News of the altercation spread like wildfire when Reynolds streamed live video of the shooting aftermath via Facebook.
The Castile incident also drew widespread criticism of the police department for what many considered an unjustified use of deadly force. Although the shooting occurred at the hands of the St. Anthony Police Department, some residents in nearby Roseville worried that the same thing could happen in their community.
One such resident, Terry Newby, a Roseville Parks and Recreation Commission member, happened to be driving through the same area just 10 to 15 minutes after the deadly confrontation. "It really hit home for me because I am a black man, and I drive past that intersection all the time," explains Newby. "It made me think, 'that could have been me.'"
That realization prompted Newby to initiate a dialogue between Roseville residents and city officials, which meant calling a council member and the mayor to get the ball rolling. The next step was forming a committee comprised of 20 volunteers and out of that group, a smaller planning committee to develop the actual event. The small committee included Newby, Roseville Mayor Dan Roe and Chief of Police Rick Mathwig. The group named this series of discussions Imagine Roseville, which evolved from an earlier city project.

Addressing Concerns
In the beginning, Newby notes, there was some concern that because the Castile shooting had attracted national media attention, protesters — whether for or against law enforcement — might try to disrupt the Imagine Roseville discussion. "In the end, we decided we're just going to go ahead and it's going to be a community event," recalls Newby. "If the anti-cop protestors are going to show up, then they can and if the pro-cop protestors want to show up, they can as well. But, we are going to focus this as a community event, not sponsored or opposed by anyone."
Roseville advertised the event on social media, in the local newspaper, and on flyers posted at city hall and at the library. Citizens were asked to RSVP but only to gauge attendance — no one would be turned away.
On October 4, the city held its first Imagine Roseville: Community, Policing and Race in Roseville discussion, featuring a panel that included Newby; two area high school students; Molli Slade, a community health worker; and Metropolitan State University Professor Donald Eubanks. Nearly 200 people attended the inaugural event.
The Imagine Roseville discussion began with panel members sharing their reactions to the fatal shooting of Castile along with their concerns about racial profiling, especially in the case of African-American males. Offering the youth perspective, two female high school students talked about how the school administration needed to do a better job addressing racism and racial profiling.
Next, Roseville Police Chief Mathwig discussed the police department's policy on use of force, including what happens during a police stop, how officers deal with use of force and when law enforcement is allowed to employ it.

Candid Discussions About Racial Profiling
The highlight of the evening was during the group discussions, where community members shared their responses to three questions. Each table had 30 minutes to discuss the following:
What was your reaction to the Philando Castile shooting and other recent events in the news?
What role do you think race plays in policing?
Who would be hurt or at risk without law enforcement?
Sentiments ranged from sadness and loss to fear and anger. At Newby's table, the number of middle-aged and elderly white residents expressing concern about racial profiling and policing surprised him. "It was very heartening to me because the issue of race, racism and policing is a complicated one, and it won't be solved unless everyone is involved," he contends. "It can't just be a black-people problem."
While there were those who thought racial profiling and racism were very real issues, others expressed just the opposite. These individuals, mostly older white citizens, stated that they didn't believe racism existed within law enforcement and blamed the Black Lives Matter movement for hyping the shooting.
However, there were a good number of people in attendance — representing different ethnic, gender and age groups — who were scared by the incident and wanted to share their own experiences. A white woman, for example, expressed her concerns for her biracial son's safety. According to Newby, she worried about her son going outside and being stopped by police, whereas she didn't fear going out because she's white.
Event organizers reserved the final 15 minutes for Q&A with the police chief. Although, at times, the exchanges were confrontational, people remained respectful when discussing opposing viewpoints.
Roseville hosted its second Imagine Roseville discussion, which built on the first event, on December 1. Although only about 75 people attended, the discussions were more intimate and just as engaging. "There were people who were sitting at tables just talking about their experiences and feelings, and it really brought people together as a community," he explains.

Don't Be Afraid — Go for It
Overall, Newby believes the Imagine Roseville events have made a significant impact on residents and law enforcement. "Anytime you get members of a community together to talk about important events, air their differences, grievances or whatever it is, that simple act alone makes people feel better," says Newby. "They feel like they've been heard and feel the city is trying to do something."
For other communities that want to create an event similar to Imagine Roseville, Newby says, "Don't be afraid to do it, but don't make it so formal or rigid that people feel there's an agenda that's being advanced." He adds that when a person is just standing at a podium speaking, it's easy for the audience to yell at the person while remaining anonymous.
"I think anonymity allows people to release that anger in an unproductive way," notes Newby, "whereas, being at a table with someone right next to you with cookies and coffee makes it much more difficult to release that kind of anger and venom — and you actually have more of a discussion."
Note: Click here for video and notes from the first Imagine Roseville discussion.
Vitisia Paynich is a Freelance Writer for Parks and Recreation magazine.