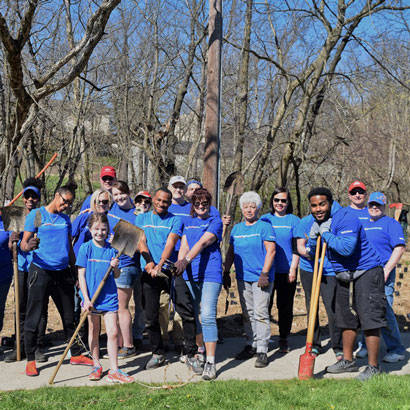 As development and loss of greenspace continue across the country, various pollinator species are experiencing a devastating decline in the habitat that's crucial to their survival. No species is under greater threat than the iconic monarch butterfly. Realizing that local parks are uniquely positioned to contribute to the national effort to save the threatened monarch butterfly, NRPA launched the Parks for Monarchs program in 2016 to support the creation of Monarch Waystations, the planting of milkweed and native plants and the education of the public through programming and interpretation — all within parks.
Thanks to Southwest Airlines, in 2016, five communities across the country received grants, through the Parks for Monarchs initiative, for park projects focused on improving and restoring habitat for pollinator species, specifically, the threatened monarch butterfly. In addition, Southwest Airlines demonstrated its commitment to these communities where its employees work and live by mobilizing employees in the hands-on execution of the individual Parks for Monarchs projects. Working alongside park agency professionals and community members, Southwest Airlines employees, their family and friends "dug in" during April's Earth Month and prepared gardens, planted pollinator flowers and shrubs, removed invasive plants and cleared trash and debris.
This collective work will have a significant impact on protecting and supporting the iconic monarch butterfly. By establishing new pollinator gardens that include milkweed plants, the following projects have created much needed habitat and breeding grounds that will allow monarch populations to recover and thrive:
Park Pride, Atlanta, Georgia — Poncey Highland Community Garden in Freedom Park
Southwest employees and members of Park Pride, a local conservation nonprofit, turned a swath of hard Georgia clay into a large pollinator garden with a focus on attracting monarch butterflies. They successfully planted more than 150 pollinator plants.

Columbus, Ohio — McKnight Outdoor Education Center
Southwest Airlines employees joined the City of Columbus Recreation and Park staff at McKnight Outdoor Education Center to install a new wildflower garden where they planted 750 milkweed and other nectar-producing plants. In addition, they worked together to complete a park spring cleanup by removing litter and invasive plants.

Indianapolis, Indiana — Southeastway Park
Southwest Airlines employees helped to install thousands of dollars' worth of plants for a monarch butterfly garden at Southeastway Park. Together with Southeastway Park staff, they planted more than 50 milkweed plants, plus additional pollinator plants such as yellow coneflower, ironweed, bee balm, smooth aster and New England aster. The garden contains more than 400 plants that will help monarch butterflies and countless other insects and native wildlife species.

St. Louis, Missouri — Riverfront Trail and Trojan Park
Southwest Airlines employees and their family members were joined by Great Rivers Greenway employees and Greenway Guides to plant native shrubs and nectar plants, such as black chokeberry, false indigo, and swamp milkweed, on the Riverfront Trail near downtown St. Louis. The new plants provide valuable nectar and pollen for pollinator species, including monarch butterflies, as well as improve the aesthetics of the greenway. In addition, Southwest Airlines sponsored pollinator gardens within Trojan Park in Wellston, Missouri, as part of NRPA's Parks Build Community annual park transformation project.

Nashville, Tennessee — Fort Negley Park
The Friends of Negley Park volunteers and Southwest Airlines employees prepared the park's butterfly gardens for the planting of 1,000 native nectar plants.

Learn more about the Parks for Monarchs initiative.
Lori Robertson is NRPA's Director of Conservation.