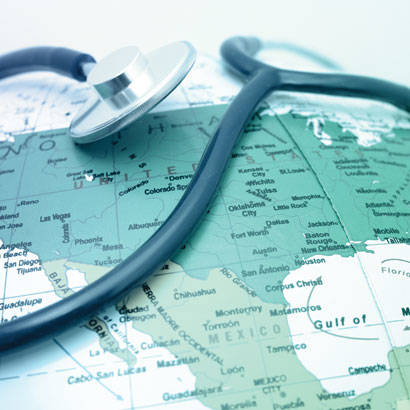 Just a month into the 115th session, Republicans in both chambers of Congress are attempting to make good on their campaign promises to "repeal and replace" the Affordable Care Act (ACA), also known as Obamacare. After their political royal flush in the November elections, Republicans have all the pieces in place — control of the House of Representatives, U.S. Senate and the White House — to overhaul our nation's healthcare system. They currently are in the middle of the easiest part of the legislative two-step process — repealing the ACA — and will soon tackle the tougher of the two tasks: replacement.
In short, the ACA was written to fix three major issues in healthcare: rising costs, inconsistent quality and limited insurance coverage. It was paid for with a series of new taxes, by rooting out wasteful practices and by innovating to lower healthcare costs. Cost, quality and coverage are closely linked in the ACA, which sought to bring down healthcare costs — especially uninsured emergency room care at hospitals — and lower out-of-pocket spending by increasing the number of people who have health insurance. If we dig a little deeper, this aligns with what we all learned in Civics 101. To increase the number of people who receive a public benefit — in this instance, health insurance — you have to pay for it by raising taxes or saving money somewhere else (cutting spending or making healthcare cheaper through innovation). The money raised from taxes, and saved from lower spending and medical innovation, was used to pay for the newly insured. Going forward, without the new taxes, waste reduction or medical innovations required by the ACA, congressional Republicans will be hard-pressed as they craft an ACA replacement bill to achieve the previously mentioned goals of lowering costs, improving quality and maintaining coverage for those who recently gained it. One of those three pillars will have to go.

Walking a Legislative Tightrope
Although the timetable for crafting an ACA replacement is uncertain at the moment, it's important for NRPA members to remember that policymaking is often a deliberate and painstakingly slow process. It took Democrats roughly 15 months, from President Obama's January 2009 inauguration through March 2010 when the bill was signed into law, to put together the nuts and bolts of what we now know as the ACA. As Republicans develop an ACA replacement over the next two or three years, they will be forced to walk a similar legislative tightrope and craft a bill that satisfies the whims and wishes of many groups. Stakeholders, including doctors and hospitals, conservative and moderate senators and representatives in Congress, governors from all 50 states, congressional Democrats and millions of Americans who have now come to favorably view many of the ACA protections will all have a voice in this process.
Aside from delivering an ACA repeal bill quickly, at least by congressional standards, Republicans will also have to be wary of avoiding several political hurdles, including completely excluding ideas from Democrats — a charge they lodged against Democrats during the enactment of the ACA. While they won't be able to count on the votes of Democrats to help replace the ACA, Republicans may well heed the calls of their Democratic colleagues to maintain the ACA's more popular provisions that Americans have embraced, such as preventing insurance companies from denying coverage and keeping children on their parents' insurance up to age 26.
That being said, some of the ACA's most popular provisions (known as essential health benefits), which require all insurance plans to offer a minimum set of benefits and to guarantee coverage of certain medical services, are opposed by many Republicans. Some opponents of the ACA believe that these guaranteed benefits have increased health insurance costs without providing substantial benefits to consumers. The ACA requires insurers to cover 10 core benefits, including trips to the emergency room, certain common prescription drugs, maternity and newborn care before and after pregnancy, and dental and vision care, immunizations and vaccines for kids. Rather than allowing the federal government to decide what benefits and services all insurers must cover, many existing Republican ideas for replacing the ACA would cede this authority to states. This aligns with traditional conservative orthodoxy to "give power back to the states," but may ultimately increase out-of-pocket costs for Americans as states implement a patchwork of laws requiring fewer guaranteed protections and insurers begin selling plans with skimpier coverage.

Refocusing Coverage
One of the thorniest issues awaiting Republicans is how to provide coverage for the roughly 23 million Americans who gained it through the ACA — primarily in the 32 states, including the District of Columbia, that expanded their Medicaid programs. Currently, the federal government matches 100 percent of Medicaid costs in states that expanded their programs. These 32 states now have higher income limits to participate in Medicaid, which provides healthcare coverage for low-income Americans, compared to the other 19 states that chose not to expand Medicaid. Before the expansion, millions of veterans, childless adults and working families with kids who gained coverage under these higher income limits were unable to afford private insurance — it was too expensive, yet, they made too much to qualify for Medicaid. Most simply went without coverage. While there's still no final bill to replace the ACA, it's nearly certain that any plan that comes forth won't have additional Medicaid money for states. Every Republican ACA replacement idea released to date proposes doing away with the federal money for states that expanded their Medicaid programs, which would effectively snatch coverage and peace of mind from millions of recent Medicaid enrollees.
As Republican leaders in Washington continue to debate among themselves and use terms like "universal access" (which evokes an emphasis on healthcare treatment, rather than a focus on insurance coverage as the ACA did), it appears Republicans may be moving away from NRPA priorities like prevention, public health and helping Americans manage costly chronic diseases, including arthritis, diabetes, obesity, asthma and strokes. The dirty little secret among healthcare policy nerds is that promoting treatment and skimpier healthcare plans, rather than emphasizing better insurance coverage, broadly lowers healthcare spending — especially by folks suffering from multiple chronic diseases like obesity and diabetes. Skimpier plans that don't have as many benefits allow for repeated visits to the doctor, or pay for expensive medications means higher out-of-pocket spending for Americans. More importantly, it means millions of people already struggling with their health won't be able to afford medicine or unexpected visits to the doctor.
As the 115th session of Congress moves forward, the NRPA Public Policy Team will continue to work with congressional Republicans to devise a bill that (1) stabilizes or lowers healthcare costs, (2) continues to improve the quality of healthcare, (3) maintains coverage for as many of the 23 million Americans as possible who gained it under the ACA, and (4) emphasizes the role park and recreation agencies play in promoting prevention, improving public health and aiding medical research to lower America's long-term healthcare costs.
As this process continues in Congress, please send me your thoughts, ideas and concerns about how replacing the ACA will impact you — good or bad.


Oliver Spurgeon III is NRPA's Government Affairs Manager.