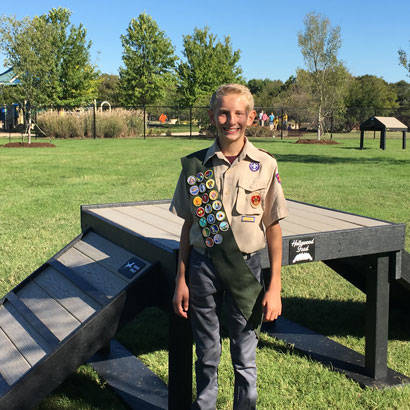 To achieve the rank of Eagle Scout, a Boy Scout must fulfill requirements in the areas of leadership, service and outdoor skills. In 1912, when the award was first presented, 23 Boy Scouts earned this honor. In 2015 alone, more than 54,000 young men became Eagle Scouts, and from 1912 to 2015, 2.3 million young men have earned the highest honor in Scouting. Taking into accout the average number of awards presented in 2015 alone across all 50 states, that's a little more than 1,000 projects per state. And, young men seeking to achieve this highest rank in Scouting are always on the lookout for project ideas.
In the city of Keller, Texas, Jared Griffin, a local Boy Scout, learned through a neighbor that the city was planning to build its first, official dog park. Back in 2014, the residents had been asked to share what amenities they'd like to see as part of the city's master plan, and they had indicated that a dog park was one of their top priorities. In the 2015-2016 fiscal year, the city officials approved a budget of $110,000 for the dog park, and soon thereafter the Parks and Recreation Board started working on the plans.
Griffin had spent many hours volunteering at the local Humane Society, walking and playing with the dogs and cleaning the facility, and decided that for his Eagle Scout project, he wanted to help dogs. So, he submitted an application for a dog park project to Jennifer Basham, Keller's recreation manager and liaison to area Boy Scout and Girl Scout troops. With the project still on the drawing board, the idea of installing a dog agility course took shape. Griffin was asked to present this idea to the Park Board, which approved the project, but he would need to secure the funding and equipment.
Since the city required commercial-grade equipment for the park, Griffin's project gained a price tag of $8,965. "This was a larger scale project than most," says Basham about this Eagle Scout project, but Griffin has already done his homework. He'd contacted Tiffany Bruce, engineering manager for the neighboring city of Flower Mound, who connected him with Hollywood Feed, the company that had sponsored that city's agility course. Hollywood Feed, in turn connected Griffin with Gyms For Dogs, the manufacturer of the agility equipment it uses, who also worked with Griffin on Keller's agility course.
"My biggest challenge was getting the funding for my project," Griffin explains, "but I learned that communication was essential to my efforts. I presented my project to Hollywood Feed and continued to communicate and follow up with them. In the end, they funded my whole project."
"We acted pretty much as the facilitators," says Basham. "Jared solicited all the funds himself, picked out the equipment and went over the layout with us." "It took seven months from start to finish to complete my Eagle project," Griffin shares.
The Parks and Recreation Department opened K-9 Pointe to the community on November 12, 2016. It features designated areas for large and small dogs, a pavilion for shade, seating, water fountains and, thanks to Griffin, agility and obstacle equipment. "My troop and the community installed the equipment and the community is enjoying the dog park and is grateful for my Eagle project," he says. Today, the city of Keller not only welcomes the addition of a new dog park, but also a new Eagle Scout.
Some Things to Consider When Planning a Dog Park
Location of park — make sure the park is situated in a safe place that is a popular area.
Space planning — whether to provide one large space for all sizes of dogs or two separate spaces: one for small dogs and another for large dogs.
Water fountain — a water supply so the dogs have ade-quate drinking water.
Sunlight/Shade — make sure there is a good combina-tion of shaded and sunlight areas.
ADA accessibility — make sure sidewalks and en-trance gates are ADA accessible.
Water irrigation/Sprinkler system — installing these elements not only keeps the grass or turf fresh and flushed, but also keeps the area clean and healthy.
Sonia Myrick is NRPA's Managing Editor for Parks & Recreation magazine.