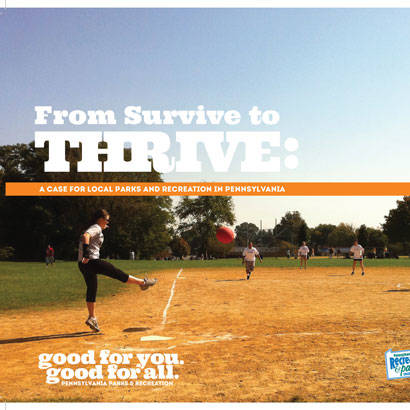 On Labor Day weekend 2015, a working committee, led by the Pennsylvania Recreation and Park Society (PRPS) and the Pennsylvania Department of Conservation and Natural Resources (DCNR), launched "Good for You, Good for All." This statewide campaign is aimed at increasing usage of local park and recreation facilities across Pennsylvania while equipping local providers with the tools to raise awareness and increase support in their communities.
The "Good" campaign is inspired by the belief that local parks and recreation improves the lives of all Pennsylvanians. Web site visitors can discover the many benefits of local parks and recreation and can easily navigate to the DCNR-powered "Explore PA Local Parks" tool to find more than 5,850 local parks and dozens of state parks in every region of the state.
To assist and partner with local providers, the campaign also established an eToolkit that includes a series of promotional materials for providers to use in their communities, as well as access to case statements with facts, figures and case studies on the "goodness" of local parks and recreation. Also available are instructions for creating a Customized Local Parks Finder for a specific municipality or county so users of community websites can find a locally tailored map of parks near them.
To date, the campaign has primarily used low-cost social media and email marketing to reach and engage more than 200,000 people and drive more than 18,000 users of the website over a 16-month period. Usage of the website by community members and of the Customized Local Parks Finder by providers is on the rise going into 2017.
Now that the "Good" campaign has launched, the working committee has set exciting goals for the future. In 2017, the committee will expand and strengthen a cross-state "Good Advisory Team," made up of local parks providers and partners, to bring the campaign to a fuller life in urban, suburban and rural communities. The Team's work will also include an effort to drive more project applications to NRPA's FundYourPark fundraising platform so more Pennsylvania providers can receive critical dollars to improve their park and recreation facilities while engaging local residents and users to contribute to their community's quality of life.
In addition, the campaign will integrate and expand a "Good for Cities" initiative focused on raising awareness of the essential benefits of parks and recreation in urban settings. Learn more about the Good for You, Good for Cities campaign.
Through this campaign, Pennsylvania is speaking with one rallying voice, and the future looks "Good."

Follow Good on Facebook (Good for PA), Instagram (@goodforPA) and on Twitter (@goodforyouallpa). Learn more about the Pennsylvania Recreation and Park Society.
Tim Herd, CPRE, is CEO of the Pennsylvania Recreation and Park Society.