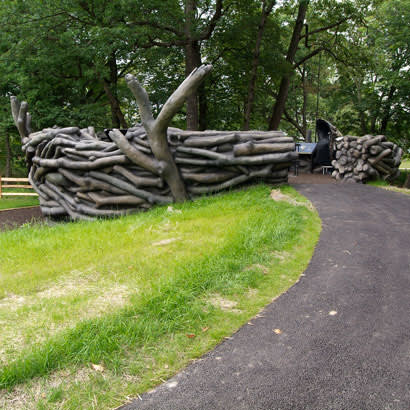 Lake County Forest Preserve at Fort Sheridan is a magical place, just a short drive north of Chicago. Encompassing its mission to provide historic preservation, year-round nature exploration and relaxation, its attractions include pebble stone beaches, a historic fort, an open expanse of prairie and a splendid forest. Even with these many attractions, the staff members at the Preserve wanted to up their game by seeking new attractions to enthrall visitors. Ten years ago, after receiving a grant that required them to create a learning environment, they set out to offer visitors immersive experiences in both cultural and natural history. Their focus was to craft memorable interpretation representing nature and the history of the park that would draw people back to the site.
The Preserve reached out to Taylor Studios, a Midwest exhibit design and fabrication firm, to help create its big "wow." With the need for educational exhibits as the focus, the collaborative effort between the firm and the Preserve resulted in the design, fabrication and installation of a classroom-size Red-tailed Hawk's nest and a refurbished anti-aircraft bunker. Years later, Nan Buckardt, director of environmental education and public affairs, says of the addition: "It's an anchor. "It sparks people's memories. Families interact in a fun, playful way at the nest and in a contemplative way at the bunker." Mark Hurley, environmental educator, says the exhibits are highly visited and that people recognize the place he works as "the place with the big nest and bunker."
With the addition of these landmarks, the Preserve has clearly realized its goal. People are drawn to the park and pictures of the nest and bunker have made the rounds on social media and in newspapers. They are truly impactful to visitors and have provided the Lake County Forest Preserve with the big "WOW" it was seeking!
— Betty Brennan, Owner & President of Taylor Studios, Inc.