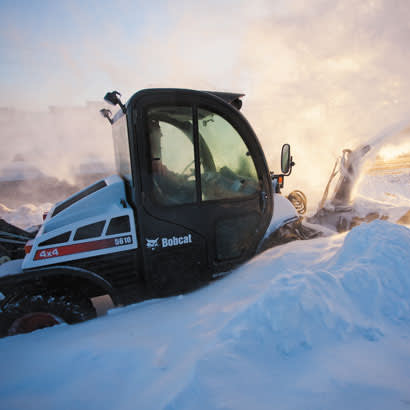 Any day. Any job. That's the powerful approach to the Toolcat™ utility work machines from Bobcat, which combine the best features of a pickup truck, compact tractor, utility vehicle and attachment carrier — all in one heavy-duty machine. Why waste time and money on several machines, each dedicated to only one task? A Toolcat utility work machine offers most of the capabilities you'd have with a small fleet of compact equipment.
Two Unique Toolcat Models
Each of the two Toolcat™ models can use more than 40 different front-mounted attachments. Changes take less than a minute — so it's simple to mow in the morning, remove downed trees in the afternoon, and sweep paths and sidewalks at the end of the day. It's an investment you can leverage a different way every day, all year round. Choose from numerous attachments, including the angle broom, auger, Brushcat™ rotary cutter, chipper, landscape rake, mower, snowblower, salt/sand spreader and more.
The Toolcat 5600 includes a cargo box in back that can carry up to 2,000 pounds of cargo, while the Toolcat 5610 has a rear three-point hitch and power take-off (PTO), which open up a wide variety of Category 1 implements in the back. With the ability to use front-mounted attachments and rear-mounted implements, operators can reduce the time spent stopping to change attachments. This helps you maximize every minute you spend in the cab.
Heads or Tails, You Win
Like our easy-to-change front-mounted attachments, implement changes in the Toolcat 5610 are quick and simple. Adjustable three-point hitch lift rods and sway linkage allow you to quickly attach and position the implement to improve performance.
The three-point hitch depth indicator helps you easily position the implement for the best possible performance. If uneven terrain threatens to slow down your work, the mechanical float feature maintains constant contact with the ground for reliable implement performance when traveling over bumps and contours.
Use powered implements with hydraulic PTO. The 5610's hydraulic PTO powers your rear-mounted, PTO-powered implements: mowers, snowblowers, augers, tillers, sprayers and more. Designed only for Toolcat 5610 models equipped with high-flow hydraulics, the 540 rpm hydraulic PTO motor delivers the power you need to save time and achieve professional results when mowing, removing snow, clearing brush or tilling.
With optional rear-remote hydraulics, you gain accuracy and control for mowing, moving snow, dumping materials and more. Control up to two hydraulic implement functions. Automatically adjust a snowblower chute, lift and lower mower decks, adjust blades, tine rakes and box blades, or unload cargo from a trailer with a hydraulic dump.
Want to learn more about the Toolcat utility work machines?
Explore the Toolcat lineup and its vast range of capabilities.
Certain specification(s) are based on engineering calculations and are not actual measurements. Specification(s) are provided for comparison purposes only and are subject to change without notice. Specification(s) for your individual Bobcat equipment will vary based on normal variations in design, manufacturing, operating conditions, and other factors.