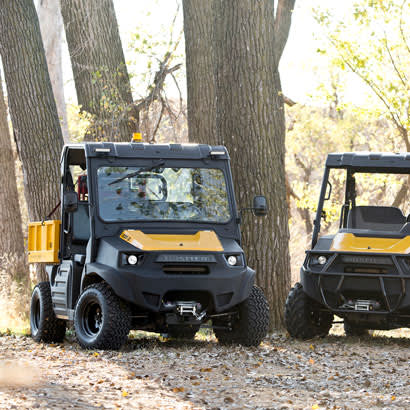 The day-to-day tasks for many park and recreation professionals include lifting heavy and awkward items. From transporting flower pots and trees with root bulbs to plowing snow and hauling sports equipment, it can be challenging to safely and easily move these materials.
Designed for work applications, the new Maximum Duty Vehicle (MDV) from Hustler Turf Equipment features LeveLift™, a patented, labor-saving cargo box that allows the user to lift up to 750 pounds from the ground and dump material from any point in its arc of motion.
A true workhorse, the MDV is ideal for park and recreation employees who must lift and transport. The base vehicle is more durable, more comfortable and easier to maintain than others in its class. With steel-frame construction and a front end made with polyethylene, the Hustler MDV will withstand even the toughest abuse. It saves time, by turning a two- or three-person job into a one-person job, freeing up people to focus on other tasks.
When Ryan Couture, hatchery coordinator at the Oregon Department of Fish and Wildlife, needed a new UTV, he opted for the Hustler MDV with LeveLift™ technology. He says staff members and volunteers enjoy using the MDV as it eases the job of hauling 80–100 pound bottles of compressed oxygen.
With a simple flip of a switch, the LeveLift™ brings the cargo box up, back and down, enabling loading at ground level or at any point. Once loaded, the LeveLift™ brings the cargo box back up and into position on the MDV. With minimum time and effort, the cargo is loaded and on its way.