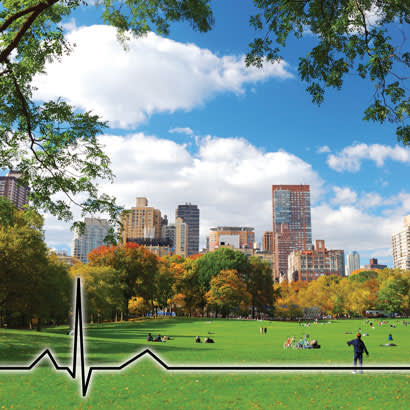 In May 2016, we launched a new monthly poll of Americans focused on park and recreation issues. Each month, NRPA Park Pulse collects responses from approximately 1,000 adults that mirror the diverse demographic profile of our nation. Our goal with Park Pulse is to broaden Americans' understanding of what parks and recreation means. Some months the questions are serious, focusing on issues of immediate concern that directly or indirectly affect parks and recreation, while others are more lighthearted, looking at how Americans have fun and interact with their neighbors at park and recreation facilities and events sponsored by agencies like yours.
NRPA has used these poll results to educate policymakers, the media and the public about the many ways your agency positively impacts the community. In turn, we see many park and recreation agencies sharing NRPA Park Pulse results and infographics on their own social media channels and through their media relations efforts to help spread the word.
So, what have we learned with NRPA Park Pulse during 2017?
We started the year learning that 80 percent of Americans work hard to stay physically fit during the cold winter months. The January Park Pulse poll found that the most popular winter physical activities are tied to local parks and recreation. Top winter physical activities include walking, jogging, running or hiking outdoors (46 percent), working out at a local gym or recreation center (25 percent), visiting a local park (21 percent) and exercise classes (15 percent).
The February poll found strong support among Americans for their local government to set aside land for the sheer purpose of preserving the natural landscape. Eighty-two percent of Americans agree it is important that their local government set aside land to preserve the region's natural landscape. The support for the protection of open space holds firmly across nearly every demographic group surveyed, with millennials most likely to be either "very" or "extremely" passionate for land set-asides. Permanently authorizing the Land and Water Conservation Fund is just one way to make this happen.
The March poll also had political implications for Washington. It showed that most Americans support proposals that would allow them to use pre-tax money from a health savings account (HSA) or flexible spending account (FSA) to pay for fitness programs or recreation. Potential eligible expenses could be fitness club fees, sports equipment, youth sports league fees and class registration costs. Support for the Personal Health Investment Today (PHIT) Act crosses all generations, especially among parents.
The April poll celebrated Earth Day by finding an overwhelming majority (83 percent) of Americans agreeing that it is important their local government — including the local park and recreation agency — prioritize environmental initiatives. These initiatives can include sustainable or green practices, such as water quality monitoring, green space assessment, environmentally friendly buildings and lawn upkeep.
May's poll looked at the pervasiveness of hunger in our nation. More than 30 percent of poll respondents indicated that either they have personally experienced, know someone who has experienced or both parties have experienced food insecurity. Food insecurity is defined as not having regular access to enough food because of financial difficulties. Millennials and Americans with children in the household were at greatest risk.
In June, we learned how parks and recreation plays a key role in what is likely Americans' favorite outdoor activity: walking. Nine in 10 adults report walking for leisure or pleasure, with favorite places to walk being local parks (49 percent), a beach or along a river (49 percent) and a local trail (39 percent). Millennials and parents with children in the household walk for leisure or pleasure at their local park more than any other group.
However, walking is not the only way adults stay active outdoors. The July poll highlighted that the typical American spends five hours per week — approximately 45 minutes a day — on outdoor play (e.g., exercising, participating in organized sports, playing with kids at a playground, walking around the neighborhood or local park, or taking a swim). More than two in five survey respondents who are either a parent or baby boomer report spending over an hour a day being active in the outdoors.
August is a prime vacation month for many families and that month's poll took a closer look at how park and recreation opportunities are a major determinant on where people choose to vacation. Key drivers for vacation destination choices include the availability of beaches/waterfront, nature/scenery, areas that are secluded and relaxing, museums/aquariums/zoos, and trails for walking, running and biking.
Violent protests at public spaces, including those in Charlottesville, Virginia, necessitated the need to emphasize that parks play a positive role in being a safe place where people can gather and express themselves openly and freely. This includes many types of events where people gather and voice their support or opposition to issues. The September poll found that 9 in 10 Americans believe the right to assemble peacefully in a constructive, respectful and safe manner in public spaces, like parks and town squares, is important.
The October poll broadened the role that most Americans have for their local recreation centers beyond their traditional offerings of fitness centers, out-of-school time programming and aquatic facilities. Among requested nontraditional recreation center services are healthy living classes, programming for older adults, nature-based activities and access to computers and the internet. With the support of the public, these nontraditional offerings will continue to grow as park and recreation agencies look to fill the gaps of needed services in their local communities.
Doctors often advise their patients to increase their level of physical activity to improve one's health and to manage chronic conditions. The November poll found that Americans turn to parks and recreation when they receive this advice. This includes 3 in 5 poll respondents who indicate they would take up walking, jogging or biking through local parks or trails. Other ways Americans would increase physical activity with parks and recreation include working out, taking an exercise class or swimming.
As this column was going to press, we were polling Americans on winter and holiday season events they were planning to attend. The December poll results will show that the local park and recreation agency sponsors many of these favorite winter and holiday events, including holiday commemorations and parades, New Year's Eve celebrations, holiday-themed races and walkathons.
We publish NRPA Park Pulse poll results here, where we include an infographic, interactive charts and key bullet points of the poll's key findings. You can also find the infographic right here in Parks & Recreation magazine and in periodic postings on NRPA's Open Space blog. Moreover, we want to hear your feedback and your ideas for future poll questions. Please email me your poll question suggestions. I look forward to hearing your suggestions.
Kevin Roth, Ph.D., is NRPA's Vice President of Research.