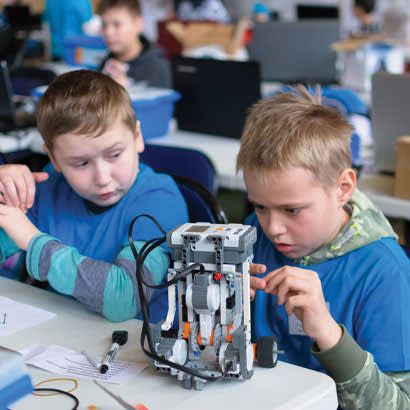 STEM (science, technology, engineering, math) programming has recently received rejuvenated attention and interest from both the public and private sector as a method by which to prepare our nation's youth for future employment. As a result, NRPA wants to raise the profile of the great work park and recreation agencies are already doing to offer STEM programming to the communities they serve, and to structure our advocacy approach around leveraging federal resources and investments to support that work. In addition, we see this approach encompassing the work of our Three Pillars — Health and Wellness, Conservation, and Social Equity — as the new spotlight on STEM is creating a window of opportunity in all these areas.
Earlier this fall, the administration issued a presidential memorandum for the secretary of education, requesting that the department prioritize STEM education in the federal grants it issues, with an interest in computer science (CS). The secretary is directed to reallocate $200 million annually for STEM and CS programming beginning in fiscal year 2018. The day after this announcement, a $300 million commitment to STEM and CS programming, championed by Ivanka Trump, was made by several tech giants, including Facebook, Microsoft, Google and Salesforce. The exact recipients of these commitments have not yet been determined, but it has sparked a whirlwind of opportunities, both legislatively and programmatically, from which we believe park and recreation agencies are ideally positioned to benefit.
STEM as an Equity Issue
Five years ago, Digital Harbor Foundation (DHF), a nonprofit laboratory with a mission of inspiring children living in Baltimore City to "play with technology as eagerly as they do video games," took a rundown rec center and transformed it into a community tech center, providing access for Baltimore's youth to STEM learning opportunities that were not necessarily available to them during the school day. Andrew Coy, one of DHF's founders, says, "Creativity is evenly distributed, but opportunity is not…I'd tell stories about startups in garages and dorm rooms. And, I realized these kids live in row homes. They don't have a garage. So many of them don't make it to dorm rooms. They still have ideas and passion, but they need a space, like a rec center, to go to and develop that." (For more, read Politico's magazine article, "How Baltimore Is Growing Its Tech Gurus From Scratch.")
STEM as a Health Issue
NRPA's Commit to Health Campaign supports the implementation and evaluation of Healthy Eating Physical Activity (HEPA) standards in park and recreation sites across the country. As part of this effort, NRPA is working with the Alliance for a Healthier Generation to provide technical assistance and planning support to park and recreation sites as they implement the HEPA standards.
Alliance for a Healthier Generation recently released an educational brief, STEM and Wellness: A Powerful Equation for Equity, in which it frames the core of its vision as:
Imagine…the potential of empowering the 10.2 million children in afterschool programs with science, technology, engineering and math (STEM) skills, while providing them with opportunities to eat healthy and stay active…Combining STEM and wellness is both a powerful equation for equity and an efficient way to implement both practices in a complementary manner….
Daniel Hatcher, director of community partnerships for the Alliance for a Healthier Generation, states, "From serving summer meals to providing inclusive physical activity opportunities, recreation professionals are MVPs of community health. Your dedication to promoting outdoor activity means you're positioned perfectly to blend STEM and citizen science with wellness goals…Recreation and park agencies are in a powerful position to not only create a culture of health, but address equity in STEM. Imagine if every recreation agency across the country blended wellness goals with STEM education and conservation!"
STEM as a Conservation Issue
Not only can the work park and recreation agencies deliver on environmental education and connecting children with nature be considered STEM learning opportunities, but their efforts around environmental stewardship and encouraging youth to assume responsibility for the preservation of America's great outdoors can also fulfill the intent of STEM programming to foster an interest in career pathways. Giving young people hands-on, field-based opportunities to engage with nature-based science programming is a core goal of hundreds of park and recreation agencies across the country.
NRPA supports the 21st Century Conservation Service Corps (21CSC), a national effort to put 100,000 young people and veterans to work protecting, restoring and enhancing America's great outdoors. This program prepares a diverse group of youth to be the next generation of natural resource employees.
Delivering STEM Programming at Parks
Currently, 32 percent of park and recreation agencies around the country offer STEM programming. One in three park and recreation agencies provides students with the chance to have hands-on experiences in the careers of tomorrow. Park and recreation agencies provide flexible learning environments for their students and are increasingly focused on coding, physical science and innovative STEM programming not typically available to disadvantaged, rural and low-income children during the school day or at home. Park and recreation agencies can offer students the space to explore interest and improve competencies, such as team work, communication and problem-solving, while inspiring technological curiosity, improving creativity and promoting deeper critical thinking.
As we develop an advocacy strategy to advance federal policies related to STEM, we want to showcase the park and recreation agencies that are already at the forefront of this work, and open new opportunities for a greater number of agencies to be at the table.
Do you have a STEM story to share? Contact NRPA's government affairs manager, Kate Sims. To learn more, visit our website.
Kate Sims is NRPA's Government Affairs Manager.