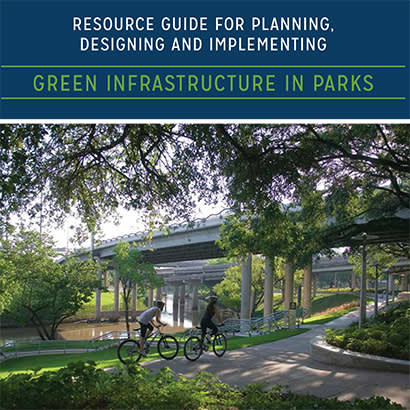 Building on the success of its Great Urban Park Campaign, which aims to improve environmental and social outcomes in underserved communities by promoting and advancing green infrastructure stormwater management projects within parks, NRPA is pleased to announce the release of A Resource Guide for Planning, Designing and Implementing Green Infrastructure in Parks.
This guide, created in partnership with the American Planning Association (APA) and Low Impact Development Center, draws on lessons learned from the Great Urban Park Campaign pilot projects and provides basic principles, inspiration and ideas that can help planners, designers and decision makers equitably integrate green stormwater infrastructure into parks and park systems across the country. It is designed to provide a chronological approach to developing and installing green stormwater infrastructure projects and includes a list of additional resources, such as technical guides and webinars, and a completion checklist that walks the reader through the project process, from planning to maintenance. To complement the guide, NRPA and the APA also developed briefing papers and case studies that dive into issues related to financing, park system planning, community engagement and equity.
We hope the guide will inspire park professionals and their communities to adopt and increase green stormwater infrastructure practices into park planning and design efforts to create more equitable, vibrant and resilient communities. Click here to download a copy.