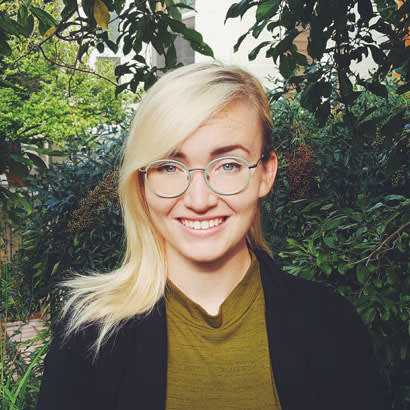 Jayni Rasmussen, NRPA's advocacy and outreach manager, was recently awarded the Professional Women in Advocacy Award for Excellence in Advocacy by an Up and Coming Advocate for her work on our Park Champion initiative. The Excellence in Advocacy Awards was begun five years ago to recognize women advocates who represent worthy causes and organizations.
Jayni's interest in advocacy began during high school near Cleveland, Ohio, when her English teacher suggested she channel her passion for crusading against the perceived injustices facing suburban high schoolers into political activism. Following her teacher's advice, she joined the youth civic engagement organization, Junior Statesmen of America, and then went on to Kent State to pursue a bachelor's in political science. She participated in Kent State's Columbus program, interning in the office of the Ohio Secretary of State, and it was there she would learn an important political lesson when the Ohio General Assembly decided to use its remaining legislative calendar time that could have been used to pass a bill to protect victims of domestic violence to, instead, pass a bill establishing the bullfrog as Ohio's state frog.
During her final semester of college, she moved to Washington, D.C., to intern at the environmental nonprofit, Ocean Conservancy — an internship that would result in Jayni being hired by the conservancy to assist with its advocacy efforts. Today, she manages the NRPA Park Champion initiative, which empowers members to advocate for the future of parks and recreation by inviting their federally elected officials to participate in events, such as ribbon- cuttings, groundbreakings and more. Her love for meeting new people, hearing their stories and helping them have their voices heard by elected officials serves her well in her role at NRPA. She thanks all the Park Champion advocates who have worked so hard to make the Park Champion initiative a success and invites everyone to join the award-winning Park Champion network.