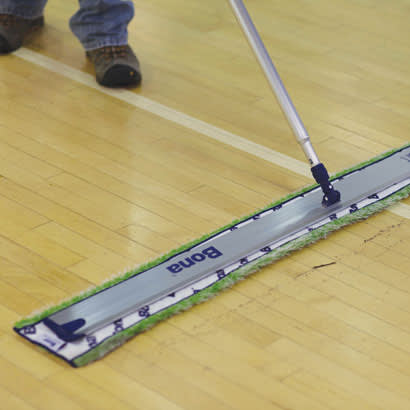 From basketball games to community events, recreation hardwood gym floors are no stranger to high levels of foot traffic. Built to be beautiful and durable, hardwood gym floors are often the central gathering point for many facilities. A properly installed and finished floor will withstand maximum foot traffic, yet care and maintenance is a critical component in getting the most life from your floor.
Typically, hardwood gym floors receive a yearly maintenance recoat to the finish; however, time is needed between recoating. In addition, a facility can save hours of labor and thousands of dollars. Here are a few considerations to ensure a long-lasting hardwood floor from the experts at Bona.
The Right Treatment for the Right Floor
Tap an expert to understand exactly the treatment your floor might need. Some floors might be best served with a recoat. The Bona System™ can cut down on time and dust by using the Bona Dust Containment System® during abrasion. Additionally, using a one-component waterborne finish makes the process easy and fast.
Keep It Healthy
Bona's premium waterborne finishes offer superior durability and shine with the added benefits of low VOCs and quick dry times. Not only are waterborne finishes beautiful, but the entire process also offers a healthier foundation for the facility and the people in it.
Be Consistent
A regular, ongoing cleaning routine will go far. The simple act of using a microfiber dry dusting pad on your hardwood gym floors prevents slip hazards and keeps dirt and dust off the floor. A professional-strength, no-residue cleaning solution, formulated for hardwood floors, the Green Seal Certified Bona SuperCourt® Athletic Floor Care Cleaner will give the floor more life between recoats and keep floors and users safe.
Use the Right Tools
Investing in the right tools makes a night-and-day difference in the entire floor maintenance process. A well-maintained auto scrubber, as well as the proper microfiber pads, microfiber mop and dusting pads, are key to keeping a hardwood floor beautiful and durable. Clean the dusting and microfiber pads before every use — using dirty pads and multipurpose cleaners can damage the floor.
A few simple steps are the difference between high maintenance and easy maintenance. Let experts, like the team at Bona, guide you to the best solutions for your hardwood gym floors.
877.289.2662