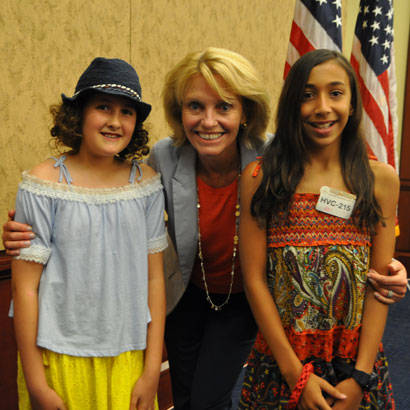 The Outdoor Alliance for Kids (OAK) recently held a briefing and panel discussion on Capitol Hill to shed light on the issue of the dwindling amount of time our nation's children are spending outdoors and the corresponding increase in childhood obesity, along with a number of other health issues, and to brainstorm some solutions. The briefing, held July 11, provided an opportunity for OAK members to discuss programs across the federal government that support opportunities for children, youth and families to learn, play and serve in the outdoors.
OAK is a national strategic partnership, made up of nearly 100 organizations, including the National Recreation and Park Association (NRPA), who have a common interest in connecting children, youth and families with the outdoors in a safe and accessible way.
With nearly 90 Capitol Hill staff in attendance, the event kicked off with remarks from Jackie Ostfeld, cofounder and chair of OAK; Evie Elliot and Louise Reyes-Gavilan, students at Creative Minds International Public Charter School and participants in Every Kid in a Park; Loren Blackford, president of the Sierra Club; and Barbara Tulipane, CAE, president and CEO of NRPA.
"OAK has been at the forefront of advocating for our kids and the outdoors at a time when the future of parks and public lands are uncertain. The importance of getting kids outdoors is something we can all agree on," says Blackford.
A panel of OAK members and leaders in the industry completed the briefing. Participants included Kristy Anderson, American Heart Association; Robert Pullen, Great Appalachian Valley Conservation Corps; Diane Wood, National Environmental Education Foundation; Roland Richardson, NRPA; and Katie Adamson, YMCA.
"We understand how critical it is to engage the next generation if we're really going to ensure the long-term protection of public parks, recreation and conservation efforts that benefit all people," says Richardson. But, as Richardson acknowledges, that engagement is not without barriers. Park and recreation agencies are competing with digital distractions, and tackling safety issues and stereotypes that minorities shouldn't engage in nature. "This is a very urgent issue," says Richardson.
To help combat this issue, panelists urged decision makers to support funding for out-of-school time programs in local park and recreation agencies.
Wood likened the lack of funding to pulling the keystone out of a bridge. "A lot comes tumbling down with it," she says.
Programs, such as school and community gardens and Safe Routes to School, are "the spending items that come up in budget cuts, but are so critical to community health," says Anderson.
"Putting money aside, think about the health of our nation," Tulipane says, citing a recent Washington Post report that claims 19-year-olds are as sedentary as 60-year-olds. "If that isn't enough to want to support policy and legislation to get kids outside and active, I don't know what is."
The briefing was hosted in partnership with the Honorable Niki Tsongas (D-MA), the Honorable Scott Tipton (R-CO) and the Honorable Diana DeGette (D-CO).
Maureen Acquino is the Assistant Editor for Parks & Recreation magazine.