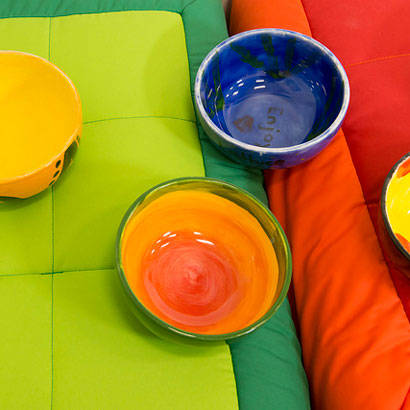 You never see it coming. In fact, it almost always sneaks up on you. As it creeps up on you, knowledge of its presence intensifies. You start to feel empty. Then, the wooziness sets in, and that is when you know it's close. But, by that time, it is already too late. It growls. And, as its thunderous voice roars, waves of ache rip then echo through your core. It's got you.
But, unlike many stories that begin like this, the main characters in this story have the best armament to defend themselves. Their secret strength is a mean bite. Their armory is stocked with nunchucks of celery, apple grenades and onion tear gas. A well-stocked refrigerator and pantry along with a few bowls are all that's needed to defeat the villain — hunger. But not everyone in our communities has the ingredients needed to fill their bowls.
So, at this year's Annual Conference, during a pre-lunch "Soup-Tail Hour" fundraiser, NRPA's Ethnic Minority Society (EMS) is offering you an opportunity to help. Purchase a ticket to the Ethnic Minority Luncheon or the pre-lunch fundraiser, scheduled for Thursday, September 28 at 11 a.m. at the Hilton Riverside Hotel, and proceeds will help support local New Orleans food banks. But, the story of this "Soup-Tale" didn't begin here, it began with a mission.
The Mission: Social Equity
In Prince George's County, Maryland, more than 130,000 residents struggle to get the food they need. Nationwide, 42 million Americans struggle with hunger. People often question how hunger and parks and recreation connect. The answer is equity.
NRPA invests in protecting vulnerable communities and believes that by building communities, regardless of socio-economic standing, age, race or ability, our communities can thrive. According to FeedingAmerica.org, 43.1 million people in America are living in poverty. That number is nearly identical to the number of Americans who struggle with hunger. No community can thrive when its neighbors are hungry, and turning a blind eye makes us all vulnerable. At the M-NCPPC Department of Parks and Recreation in Prince George's County Maryland, we realized this, and we were not the only ones.
We realized that the mission of the Commit to Health grant from NRPA, our partnership with our local Capital Area Food Bank, and our Formula 2040 Master Plan aligned. We knew that by pooling our resources and fighting hunger as a united front, we could help create healthier, more sustainable, vibrant communities.
The Strategy and Implementation: Collaboration
We worked with youth, artists, business owners, community leaders and seniors to create dynamic, original and beautiful bowls. Through the process, they also learned how their actions through this initiative directly impact hunger. We aligned ourselves with NRPA's commitment to health and wellness and social equity. While our youth were crafting the bowls, they learned about the importance of nutrition, not only inside the classroom, but also in the soil. They got their hands dirty growing fruits and vegetables they would later use to make healthy meals. We even worked with a few of our youngest residents through video to tell the community, in their words, why fighting hunger is so important.
The community was then invited to a fundraiser that included a catered lunch. They sampled different soups that were prepared and then donated by local restaurants and caterers. After finishing their meal, guests received one of the uniquely crafted bowls as a reminder that there are always empty bowls in our communities that need to be filled.
The Impact: Ongoing Efforts
During our first Empty Bowls event, we raised more than $10,000, and all the proceeds from the event went to support local food bank programs. Donations to local food banks provide families with fresh fruits and vegetables and nonperishable food items. Our second annual Empty Bowls event will be held in October.
But, we acknowledge our efforts cannot end here. Fighting hunger requires many communities and stakeholders working together, sharing ideas and supporting each other's efforts. Together, we can take steps toward a healthier community.
How Can You Help Fight Hunger?
Cocktail Hour with a Twist: "Soup-Tail Hour"
If you're heading to the NRPA 2017 Annual Conference in New Orleans, we'd love for you to join us and the Ethnic Minority Society (EMS), Thursday, September 28, 2017, at 11 a.m. at the Hilton Riverside Hotel for the Empty Bowls pre-lunch "Soup-Tail Hour" fundraiser. Admission to the fundraiser is included in the price of the EMS's luncheon ticket, thanks to our presenting sponsor. For every ticket purchased, a sponsor will fund your Empty Bowls "Soup-Tail Hour" admission. Whole Foods Market Veterans Mandeville and Arabella Station is a major sponsor of this event, and will provide a variety of soups and breads, but don't think we won't capture the local spirit of New Orleans. Local restaurants are also contributing a variety of soups with a Cajun flare.
If you are unable to attend the EMS luncheon but still want to fight hunger in New Orleans, you can do so by purchasing a ticket to the pre-lunch "Soup-Tail Hour." The cost is only $20 and proceeds will go to the Second Harvest Food Bank of Greater New Orleans. You will also receive a guide on how to recreate or expand the Empty Bowls model in your hometown.
Making communities healthier is core to the services park and recreation agencies provide, which means, fighting hunger is part of that too. Together, we have the ingredients needed to fill communities. When you see a bowl, remember it is not meant to be empty. How will you fill it?
See you at "Soup-Tail Hour," Thursday, September 28 at 11 a.m. at the Hilton Riverside Hotel in New Orleans.
Anica O'Neil is the Youth Specialist, Special Programs Division for M-NCPPC Department of Parks and Recreation. Rae Wallace is the Marketing Manager, Public Affairs and Marketing Division for M-NCPPC Department of Parks and Recreation.