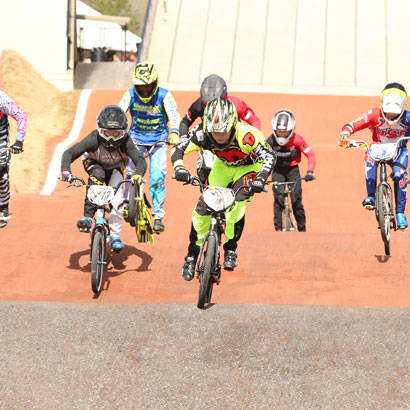 All of us at USA BMX and throughout the BMX community were proud to see our event featured on the cover of last month's issue of Parks & Recreation magazine. The picture was taken at the home of this year's BMX World Championships, Novant Health Supercross BMX track, in beautiful Rock Hill, South Carolina.
This facility is sanctioned by USA BMX and managed by the Rock Hill Parks and Recreation Department, and, since its opening in August 2014, it has hosted major national and international events. In fact, in July 2017, it will host the first BMX World Championships held in the United States since 2001. The last BMX Championships held in the United States was in Louisville, Kentucky.
Attracting a New Customer Base
Since the mid-1980s, Rock Hill has been developing premier amateur sports venues to serve the needs of its community and to be used in hosting state, regional and national sports competitions that inject millions of dollars into the local economy annually. Constructing outdoor recreation facilities to include a world-class BMX Supercross track and other cycling venues was part of a larger vision set forth by Rock Hill's mayor, city council and city management. They saw it as a way to expand the city's already successful amateur sports tourism niche beyond traditional sports, such as soccer, softball, baseball, tennis, etc. These cycling facilities have helped attract a new customer base that wasn't being served through traditional sports tourism venues. Now, not only is the facility serving riders from across the region, country and the world, but it's also serving the recreational needs of the local community in a new and exciting way.
Community Impact
Having a BMX track in its park system sets Rock Hill apart from many of its municipal counterparts across the state and the region. The agency has seen the positive impact that the track has had on the community through rider development programs, local races, summer camps and school field trips; the facility provides another choice for families and youth to live an active lifestyle. Hosting cycling events that bring visitors from across the state, region, country and world provides an economic boost to the community through increased traffic at hotels, restaurants and other businesses that serve visitor needs. And, with the international popularity of BMX racing, Rock Hill's hosting of recent World Cups and the upcoming World Championships, the community has the opportunity to welcome and interact with folks from all over the world and to share its southern hospitality.
The parks department tries to strike the appropriate balance between offering race events at various levels (local through international) and programming (open practice, educational clinics and pump track availability) in scheduling the use of the facility. Another area where balance is important is in determining a track maintenance schedule that keeps the track in peak condition, yet keeps the facility open and available for programming and race events to meet the demand.
Supporting Elements
BMX tracks can be built on a space equivalent to a baseball or football field and are self-supporting once built. Funding and land are at the top of the list for communities wanting to construct a BMX track. It also helps to have support from elected officials and city management if it's going to be a municipally owned and operated track. Rock Hill was fortunate to have many of these supporting elements in place as it embarked on building its facility through a public-private partnership with a land developer and funding generated through naming rights and special purpose tax fund programs. Unfortunately, not all communities will have this ideal scenario. They may need to rely on broad community support through grassroots fundraising efforts, creative land use agreements and, perhaps, private sponsorships.
While not every city or every park and recreation department will host world championships, numerous BMX tracks are operated by, or located on, park land. Many are also managed by the recreation departments. With the addition of BMX racing to the Olympic Games in 2008 and a shift from traditional stick-and-ball sports, BMX has flourished. Since 2008, several facilities have been developed in conjunction with parks and recreation: Henderson, Nevada; Hesperia, California; Austin, Texas; Tallahassee, Florida; Yucaipa, California; Longmont, Colorado; Oldsmar, Florida; Sarasota, Florida; and plans are underway in Houston, Texas, and Knoxville, Tennessee.
There are more than 320 sanctioned BMX tracks throughout North America and a large percentage of them are part of the parks and recreation system. At USA BMX, we understand the need for these facilities and the need to provide alternative programming to today's youth. Through community outreach programs, STEM, the Partnership for a Healthier America and Olympic Day, USA BMX works daily to reach youth and promote activity.
Nick Adams is the Chief Marketing Officer for USA BMX.