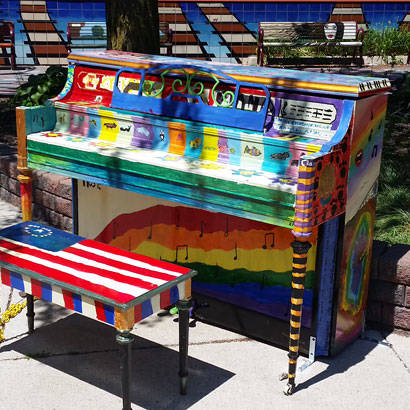 The city of Ames, Iowa, hit all the right notes this summer with the installation of two donated public pianos. The aim of this public piano project is to promote the joy of music making while advocating for the benefits of music on the brain, bridging the link between the arts and sciences, commonly known as STEAM (science, technology, engineering, arts and mathematics).
Through a partnership with the City of Ames Parks and Recreation and Patricia Izbicki, a graduate student studying neuroscience at Iowa State University (ISU), the pianos came to life. Izbicki's inspiration came from her involvement with a public piano project while an undergraduate in Florida. "Music, just like park and recreation activities, has beneficial effects on the mind and body," says Izbicki."The combination of the two make for a very special environment to not only be outdoors, but also to be able to make music outdoors."
The community has been involved from the beginning, with volunteers jumping in to spruce up and weatherproof the pianos. An ISU Focus Artist Grant paid for the moving expenses, paint and other supplies to decorate the pianos, and middle school students who participated in a summer "Neuroscience of Music" course at the university and campers from the First Baptist Church of Ames Music Camp did the artwork.
The first piano was unveiled at Tom Evans Plaza on June 2 during the annual Ames ArtWalk, with the second at the Campustown Court during the city's Summerfest on June 3. Both unveilings had quite a large community turnout, with people taking turns playing the pianos. "It seems the pianos have been a hit with the community. I've seen them played while bystanders listen and even sing along," Izbicki adds.
The city of Ames will assess the pianos at the end of the summer to decide the next step. If they are still in playable condition, they will likely be stored or used at a local business for the winter. If they are not in great condition, they will be disassembled. While the city is unsure if the pianos will become an annual summertime tradition, they've at least brought the arts alive in parks for one musical summer.
Maureen Acquino is the Assistant Editor for Parks & Recreation magazine.