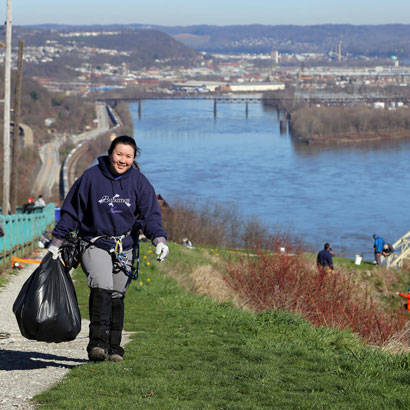 The world in 1996 was markedly different than it is today, and Pittsburgh, Pennsylvania, was no exception. "3rd Rock from the Sun" was on TV, the Spice Girls were topping the charts and solar panels were still an oddity in most of the United States. Pittsburgh was laying the groundwork for the remarkable technological and green transformation that would eventually come, and a handful of citizens concerned with the deteriorating condition of the city's grand park system were meeting in a living room to discuss how they could help.
What followed was the birth of one of the country's most respected parks conservancies, more than $100 million raised for major park improvement projects over the next 21 years and a vibrant park system that helped spur economic development, city pride and the designation of Pittsburgh as one the nation's top most livable cities. This is the story of the Pittsburgh Parks Conservancy, but the lessons learned since that first meeting are ones that any size park or recreation group can use.
Meg Cheever and her friends were regular citizens who believed that a healthy, well-cared-for park system was a key to drawing and maintaining residents and essential to the future renaissance of this former industrial city. They recognized the enormous potential in Pittsburgh's historic 2,000-plus-acre park system, while also knowing the reality of available resources. Cheever eventually became the group's CEO and encourages others to never underestimate the good that energized, like-minded people can accomplish.
The majestic park system, made possible by industrialists like Frick, Schenley and Mellon, was proving hard to care for as Pittsburgh — like many other cities around the country in the 1980s and '90s — dealt with difficult financial times as steel and other traditional industries dissipated.
Early Success
From its earliest days, the Parks Conservancy fostered relationships with local government through an official public-private partnership agreement with the city of Pittsburgh to ensure that relevant issues and needs were addressed. Understanding their partners' needs and taking care to give credit and praise for their contributions proved an important part in the Parks Conservancy's early success.
Also key was choosing highly visible projects for the first several years, which brought the organization and its work to the attention of potential funders and supporters. The high quality of those initial projects — including prominent entry features at popular regional parks — became an important selling point for fundraising efforts. "High-quality projects not only accomplish physical restoration, but also fuel community pride, encourage potential funding sources, and deter abuse and misuse," says Susan Rademacher, the conservancy's parks curator.
Identifying the key tenets with which to tackle all projects makes communication of the work easier, and for Pittsburgh Parks Conservancy, those guiding lights showed respect for the environment, attention to historic design and the needs of a diverse region. For the Parks Conservancy, this meant tackling one area of a park at a time and understanding that comprehensive improvement would be incremental. Projects were intentionally chosen in varied locations around the city to show the group's commitment to park equity, which helped gain geographically wide-ranging support in the process.
Also, keeping the community involved in the planning process in a genuine and meaningful way, including keeping them informed about progress and complications, has been paramount to all projects. Multiple community planning meetings are held for each of the conservancy's major park improvement projects. "Having community input — and making every effort to integrate that input into the final project — is essential to long-term success," says Heather Sage, director of community projects. "The years of community conversation that can precede the start of a project are vital to the project's success and, ultimately, the success of the organization. The parks belong to the community, so it's natural that their voice should be a key part of projects in their parks." Sage cites community input for an important design feature that made its way into the recently completed Frick Environmental Center, an outdoor sandstone and grass amphitheater for use for both planned and impromptu gatherings and presentations. "Listen to those who will use your space."
Management, Maintenance, Programming
As the Parks Conservancy entered its second decade in the mid-2000s, the importance of including an endowment for maintenance in the plan for every project was clear. "Endowment is a key to long-term survival of a parks conservancy," says Cheever. "And having funds available to care for a project once it has been completed is vital to keeping community trust." Maintenance funds keep projects in top shape long after the ribbon cutting, which, in turn, creates goodwill with funders. In addition to the funding itself, the conservancy includes a season-by-season site care plan with each project, including elements like inspection dates, spring and fall trash cleanups, invasive plant sweeps, furniture inspection and repair, and culvert cleaning and clearing after significant rainfall.
Choosing projects that have maximum impact for park users is also paramount. The 2008 restoration of the Riverview Park Chapel Shelter included recreation of the historic steeple and dormers, new flooring and kitchen, and landscape restoration and new garden beds. The building sits high on a mountainous park slope, and had been closed to the public and slated for demolition before the conservancy's efforts. The major rehabilitation of the shelter had been identified by park neighbors as a much-wished-for initiative, and once completed it quickly became the city's most requested and rented shelter. The countless graduation parties, birthday gatherings, memorials and weddings it hosts are proof that high-quality projects that respect community input will be welcomed, used and beloved.
"Our challenge in Pittsburgh is coming up with the financial resources for all the necessary restoration projects in the parks while ensuring that resources for managing and maintaining the parks are also at a good level," Cheevers says. "When people donate to the Parks Conservancy they are helping close this gap, and are investing in Pittsburgh's future." Cheever is not exaggerating on this last point, either. Mellon Square, for example, a recent major conservancy project, holds the distinction of being the country's first public park built on top of a parking garage. The 1950s modernist design of the downtown park is striking, but perhaps equally significant is what happened to the blocks surrounding Mellon Square once conservancy-led construction on the major reimagining of the space was underway. New economic development was spurred, with boutique hotels, the renovation and reopening of office buildings, and new residences sprouting up around its perimeter.
Pittsburgh's hilly terrain and three rivers make flood control especially critical, and the Parks Conservancy has included green infrastructure (GI) elements in every major park improvement project for the past 15 years. GI elements that help manage stormwater not only beautify the space, but also increase the value of the surrounding neighborhoods and keep wildlife habitat in place. Rain barrels collect water at the Schenley Park Visitor Center, the rerouting of a stream to its original path in Phipps Run helps reduce flooding of park trails and permeable asphalt that allows rainwater to soak through and into the ground are a feature of the conservancy's McKinley Park Entrance project. The conservancy learned that the community cares about water safety and stormwater management, and communicating the role parks and greenspaces play in easing those concerns can bring partnerships and financial support.
Also threading through Pittsburgh Parks Conservancy projects from the beginning is carefully chosen programming. "Programming, especially with an environmental or health focus, keeps the community engaged in their parks, and creates a bond," says Camila Rivera-Tinsley, Parks Conservancy director of education. "Our all-ages programming helps create future park stewards and supporters." The diverse slate of programming has grown to include STEM-focused summer camps, fitness classes and an extensive series of naturalist educator-led hikes, older-adult nature classes and movies in the park. "We serve a diverse community of park users, and we put careful thought into programming accordingly," says Rivera-Tinsley.
As Cheever prepares to pass the baton to her successor in March of 2018, she cites park equity as her wish for Pittsburgh's green future. "I'd like to see a city where the entire system of 160 parks both large and small is beautiful, safe, healthy and clean," Cheever says. "Our challenge is to find the resources to bring every park in every neighborhood of the city to excellent condition and the support to keep them that way. Then, we connect the parks to each other and to the riverfronts and to the neighborhoods. When we accomplish that, I think we'll find that all Pittsburghers are happier and healthier. We'll have equity across our park and trail system, and our city will be a model of other cities around the country."
In the past two decades, the Parks Conservancy has undeniably done much for Pittsburgh: 17 major park improvement projects, groundbreaking partnerships, and helping to transform the city into a green technology and education-focused destination. Year-round environmental education programming, a leading role in green infrastructure and dedication to park equity are the goals taking the Parks Conservancy into its third decade. Perhaps most important of all, though, are the countless happy memories of millions of park users who have grown up, played, loved and celebrated in the greenspaces that are the result of the lessons learned during the group's visionary work.
Scott Roller is the former Senior Manager, Communications and Creative for the Pittsburgh Parks Conservancy.