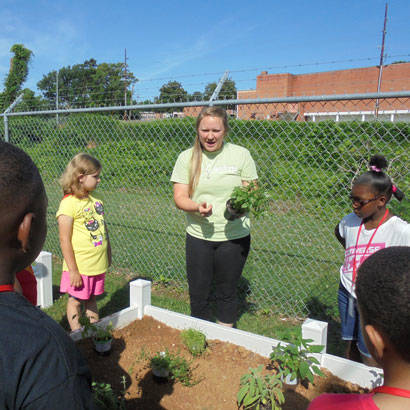 Gardens have long been a staple of parks and recreation. Ranging from individual community garden plots available to residents, to public-private partnerships between restaurants, food banks and local government, to out-of-school time (OST) sites planting and harvesting produce for snacks, meals and nutrition education, gardens are an exceptional community asset and provide a number of benefits to individuals and families.
Gardens can be used to foster a love and appreciation of nature. They can bridge connections to other cultures and provide opportunities for social engagement. They are proven to reduce stress and promote heart health and brain function. They offer low-cost solutions to fresh food deserts and increase access to nutritious foods for underserved populations. And, they can be used to educate youth about growing healthy and sustainable produce, creating life-long healthy habits.
NRPA's Commit to Health initiative encourages local park and recreation agencies to implement a set of Healthy Eating and Physical Activity (HEPA) standards at their OST sites. Since 2014, more than 1,500 park and recreation sites have pledged to "Commit to Health," impacting more than 280,000 children across the country. The HEPA standards focus on changing program environments and policies to increase opportunities for youth to be physically active and increase access to healthy foods. While agencies have experienced great success in creating healthier environments, implementing the HEPA standards is a process that can present some challenges.
From creating staff buy-in, evaluating and adapting menus and program schedules, encouraging positive role modeling, and offering nutrition education and physical activity while navigating the day-to-day challenges of an OST program, there is not a one-size-fits-all strategy to success. Agencies use a variety of tactics and resources to achieve the standards, including utilizing nutrition education curricula (like NRPA's Foods of the Month), partnering with local nonprofits and the private sector to offer additional enrichment activities and, more recently, using community gardening programs to engage youth and families in healthy eating initiatives, educate youth about growing sustainable produce and provide a connection to nature and the outdoors. Combining gardening with nutrition education has proven to be a popular and successful way to meet many of the HEPA standards.
One local park and recreation agency leading the way to healthier outcomes through community gardening is the city of Florence in South Carolina. At Northwest Community Center, located in a neighborhood once riddled by gun violence and gang activity, community members have come together to establish a garden where kids and families have safe access to nutritious foods and educational opportunities. Over the past few years, the recreation department has partnered with the Clemson University Extension office and a local master gardener to show children in summer camp programs how sustainable food is grown and how eating healthy can impact their daily lives. Kids in the program were immediately intrigued by the lessons and eager to learn more. According to David Caldwell, program coordinator with the city of Florence, "Before long, kids were pointing out to park and recreation staff what needed to be done in the garden each day — planting, watering, harvesting produce and composting." In addition to the lessons during the camp day, kids have the opportunity to return to the garden site with their families and utilize the produce that is available. The park and recreation department credits the establishment of the garden with a rise in positive social interactions, family engagement and healthy eating, and an increase in neighborhood safety.
In Chicago, Illinois, the Chicago Park District operates several gardening programs in conjunction with its Commit to Health sites — some focused on nutrition education and sustainability, others on engaging teens in work development opportunities and building lifelong health and wellness skills. At-risk youth in the Atgeld Garden Chicago Housing Authority community can engage in hands-on gardening and cooking programs at Carver Park. The Chicago Park District partnered with local nonprofit Growing Power, Inc., to employ teens and teach them about sustainable urban farming, culinary skills, healthy meal preparation and composting. In the summer months, more than 100 teens spend their mornings working on the farm and their afternoons enjoying the fruits and vegetables of their labor by preparing healthy meals under the supervision of a chef. Through this partnership, teens are learning lifelong culinary skills and developing healthy habits that will follow them throughout their adult years. In addition, the program offers youth employment opportunities, keeping them engaged and learning during the summer months.
In a more traditional community garden setting, the park and recreation department in the city of Jackson, Tennessee, has witnessed the direct impact that gardening can have on its youth in summer camp and afterschool programs. With funding from the Walmart Foundation and under the guidance of local horticulturist Celeste Scott, from the University of Tennessee Extension Office, the park and recreation department constructed several raised garden beds at Westwood Recreation Center. Westwood is home to one of the largest afterschool programs in the city and offers a plethora of enrichment activities for youth, including cooking classes and nutrition education. The garden was an additional element to enhance its existing programs and to give kids the chance to experience hands-on planting and harvesting of fresh produce. According to program staff, the kids can barely contain their excitement when it comes to gardening, eagerly awaiting the produce to be ready each season! As an added benefit, the garden offers children the chance to taste fruits and vegetables, helping the sites to meet the HEPA standards that focus on access to healthier foods.
Programs like these in Florence, Chicago and Jackson help to reinforce the positive effects that gardening can have on individuals and families. With feedback from the field strongly indicating that gardens are a useful educational tool in the OST environment, NRPA launched the new Community and Home Gardening curriculum this summer. The curriculum supports the creation and year-round programming of gardens in OST settings and at home to reinforce the healthy behaviors youth are learning in summer camps and afterschool. A variety of different gardening topics, including starting seedlings, winter gardening, preserving your harvest, composting, gardening to reduce grocery bills, exploring farmers markets and more are featured! Each month contains newsletters that can be sent home with parents and caregivers, as well as age-appropriate experiential activities that encourage hands-on exploration, coloring and activity sheets for youth. In addition, four seasonal posters and gardening tip sheets are also available covering a wide range of gardening topics. All materials are free and downloadable.
While many agencies already have gardens established and others are just beginning, the curriculum is designed to have something for everyone, so check it out.
Allison Colman is NRPA's Health and Wellness Program Manager.