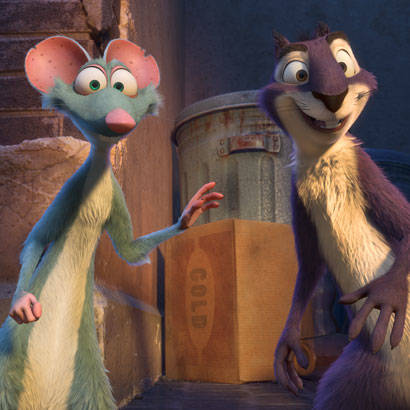 Each summer, people in towns across America flock to their local parks to partake in an evening of fun and entertainment. Armed with folding chairs, blankets and picnic baskets, families and friends gather outdoors to socialize and enjoy a movie experience under the stars. It's the best of both worlds: arts and nature uniting as one. But how would you feel if the same venue that hosts "Movies in the Park" were to suddenly disappear? More to the point, imagine your park overtaken by a greedy developer intending to demolish your neighborhood green space in order to make way for a dangerous amusement park. That's exactly what Surly and his fellow animal friends encounter in the animated feature film, "The Nut Job 2: Nutty by Nature."
Opening in theaters on August 11, 2017, this much-anticipated sequel to the 2014 hit movie, "The Nut Job," presented by Open Road Films, reunites most of the original cast, including Will Arnett as the voice of Surly, the smart-aleck, self-serving squirrel; Katherine Heigl as Andie, his problem-solving partner; and Precious, the lovable bulldog voiced by "Saturday Night Live" alum Maya Rudolph. "The Nut Job 2: Nutty by Nature" also welcomes new characters like, Mr. Feng, played by action star Jackie Chan, and the mayor, voiced by Bobby Moynihan.
Cal Brunker, known for his work on "Despicable Me," "Escape from Planet Earth" and "Minions," directed this latest incarnation of "The Nut Job" story — and even cowrote the screenplay with fellow writers Scott Bindley and Bob Barlen.
"I really liked the characters in the first film, and this was an opportunity to tell a story with my own spin on those characters," explains Brunker. He adds that the studio wanted to take the "Nut Job" franchise in a slightly new direction, thus giving him "the freedom to do that with [these] amazing actors that are in the movie."
While the story, again, takes place in Liberty Park located in the fictional city of Oakton, the antagonist this time is a nefarious mayor with a scheme to bulldoze the animals' home and replace it with a poorly constructed amusement park. This prompts Surly and his furry friends to join forces in a fight to save their home from destruction.
Tapping Universal Themes
Although "The Nut Job 2" is chiefly meant to entertain audiences, Brunker points out the movie's universal theme of protecting one's home. He explains that people might empathize with these animals' predicament because it, perhaps, reflects their personal experiences. "And while the [characters'] home happens to be a park," says Brunker, "we think about our own homes."
The movie's plot "is all about preserving green space in our cities," explains Jeffrey Dickson, the film's storyboard supervisor. However, doing so could prove challenging. Yet in order to be triumphant, "you should not be intimidated by overwhelming odds against you. That's another important theme that comes across," he says.
Brunker admits that his own park experiences as a child influenced the storyline somewhat. "Growing up, most of my friends and I spent a lot of time outside; we went to camps in the summer." Brunker, who lives in Canada, often visited Algonquin Provincial Park in Ontario. "I think all of that time in nature really makes you appreciate this amazing planet that we live on. And…when you see the destruction of the park in the movie, you're really rooting for the characters to fight back and protect [their home]," he says.
Breathing Life into the Story
Developing an animated film is a creative endeavor that could take months, if not years, to complete. For Brunker and his team, "The Nut Job 2" was a three-year project — from beginning the script to handing over the finished movie. Before working on any of the animation or storyboards, he concentrates on the first draft of the screenplay. "Once we've got that, we start working on the storyboard process so that we can start to see the visuals come to life and see these characters acting in the situations that they are going to be in," he says. It's at that point when you actually begin to see the film take shape and make changes accordingly.
When it comes to the animation, the devil is in the details. "We're really interested in how things look in the animal world, so we would go to parks and shoot photographs close up of little clusters of animals and [observe] how they interact because all of it has to be built by hand by an artist and then by computer," Brunker says.
"Our research, which took place in actual parks, was really more about specific things: How does moss grow on the roots of a tree? How do pebbles collect in clusters, what do they look like, and how do we make that look natural? While it seems effortless, when you're placing pebbles by hand in a 3D environment, it's very difficult to make those things appear natural."
Careful attention was also paid to the natural attributes of the characters. For example, the squirrels featured in the film walk around on two legs and gesture with their arms. Brunker says that when they are running, however, they're always seen moving on all fours. "We try to keep certain animal behaviors consistent."
Hollywood Thinks Green
Surprisingly, Tinsel Town has long embraced stories that center on environmental themes. In fact, these types of animated movies date back decades, entertaining children while educating them about green issues like land conservation and climate change. They include classics such as: "Bambi" (1942), "FernGully: The Last Rainforest" (1992), "Over the Hedge" (2006), "Happy Feet" (2006) and "WALL-E" (2008).
Dickson contends there are Hollywood directors and writers who believe they have a moral obligation to bring awareness about these issues through storytelling. However, "the real challenge is to do that without hitting the audience over the head, because people tend to act negatively when they think they're being preached to. It's not our job to tell people how to think; it's our job to make people aware of issues. And, if we offer a solution, it's just our solution for our characters. Everyone has to make up his or her own mind," he says.
Surly Across America
To promote the film's August theater release, Surly and "The Nut Job 2" gang have embarked on a 30-city tour across the United States, participating in a series of Park Day events. The first Park Day event kicked off on June 10 during National Get Outdoors Day at Sloan's Lake Park in Denver. On July 4, Surly appeared at Kansas City's Corporate Woods for its Star Spangled Spectacular, taking photos with children while encouraging them to clean up the park. Other stops included Heritage Park in Las Vegas (July 6), Pancakes in the Woods at Chicago's Emily Oakes Nature Center (July 9), and Dallas End of Summer Bash at Dallas Parks & Recreation (July 21). This month, fans of the movie can meet Surly in person at Seattle Seafair in Genesee Park, August 5–6.
What's the Takeaway?
Dickson says "The Nut Job 2" is about the strength of friendship and the commitments we make. "It's more than just a story about a squirrel," he points out. "It's a story about Surly dealing with something bigger than himself for the betterment of the community."
Brunker agrees. "It happens to be a story about animals, but the theme is really about us all taking care of each other. We're all human beings and we're all in this together. We've got one world and we have to look out for each other by looking out for our planet."
Vitisia Paynich is a Freelance Writer based in Chino Hills, California.