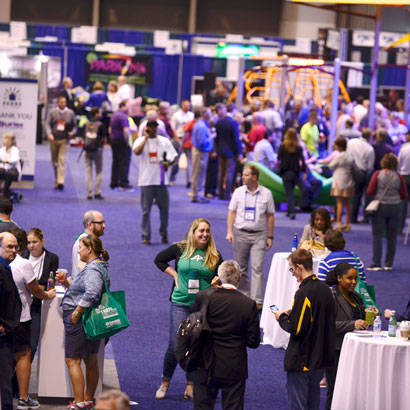 The 2017 NRPA Exhibit Hall is filled with exciting opportunities for all attendees. It is a must-see with the awesome exhibits, products and resources available from more than 400 exhibitors — plus lots of fun stuff, too! With our new floor layout providing more aisle space, attendees will have two days to network with potential service providers and fellow attendees, participate in education sessions, visit the NRPA Connect Zone, try out the challenge course sponsored by Professor Play Inc. (3618) take a chance to win gift cards, pick up cool tchotchkes — like the NRPA 2017 limited-edition Hurricane glass, participate in our popular EXPOdition scavenger hunt, sponsored by Burke Playgrounds (1439), and experience our popular evening Happy Hour with a chance to win one of three $500 cash prizes sponsored by Toro (2329). Finally, attendees will have a chance at the big NRPA Cash Bonanza, where one lucky attendee will walk away with $2,000 in cash in our grand finale drawing Wednesday, September 27.
On Tuesday, September 26, following the NRPA General Session, the exhibit hall will open at 10:30 a.m. and will remain open until 6:30 p.m., with our Happy Hour scheduled from 5 p.m. to 6:30 p.m. On Wednesday, the exhibit hall will be open from 10:30 a.m. to 3 p.m. The first 1,500 people to arrive each day will receive a giveaway item — Tuesday's prize is sponsored by Background Investigation Bureau (3350) and Wednesday's is sponsored by Burke Playgrounds (1439).
Don't forget to visit the NRPA Membership Area (3257) to register for the NRPA Cash Bonanza. $2,000 cash will be given away between 1 p.m. and 2:30 p.m., you must be present to win, so be sure to mark your schedule to be on the exhibit hall floor on Wednesday afternoon!
Networking Fun
During the Happy Hour, we invite you to network with exhibitors and attendees and enjoy fun activities, food and drink. To get your free drink ticket for the Happy Hour, make sure you visit the Jacobsen booth (1127) during exhibit hall hours on Tuesday. Three lucky attendees will walk away with $500 cash in our drawings sponsored by Toro. Make sure to register at the Toro booth (2329).
Every attendee has the opportunity to participate in the EXPOdition scavenger hunt. Prizes include two free registrations for the 2018 NRPA Annual Conference in Indianapolis, two iPads, four FitBits, T-shirts and gift cards, but they'll only be available to a select few who get all their squares stamped and turn in their scavenger hunt card by 2:30 p.m. on Wednesday at the Burke Playgrounds booth (1439). Drawings for $100–$200 American Express gift cards will take place every hour, while you check out the extreme inflatable challenge course sponsored by Professor Play Inc. (3618). Don't forget to pick up your limited edition 2017 NRPA Annual Conference hurricane glass, but you must visit the NRPA Member Experience area (3257) for details.
Engaging, Hands-on Activities
The 2017 Exhibit Hall is packed with great solutions for all your park and recreation requirements and has fun activities, as well! Back by popular demand, The Learning Playground will host our most popular interactive education sessions that are guaranteed to get the juices flowing — make sure to try "If You're Happy and They Know It, Happy Staff! Positive Psychology and Authentic Leadership" on Tuesday from 11 a.m. to 12:15 p.m. and "Stack the Deck in Your Team's Favor" on Wednesday from 11 a.m. to 12:15 p.m. New for 2017, the NRPA Connect Zone will offer attendees the opportunity to relax and network with colleagues, make new friends and enjoy fun games, as well as attempt to conquer a rock climbing wall provided by Vertical Reality (3209). The BREC mobile playground unit (3100) will also be on the floor with demonstrations and education sessions.
Meet the NRPA Team
Your dedicated NRPA Membership team will be on hand to answer any questions you may have or provide information you may require in the NRPA Membership Area (3257). Talk to our dedicated staff about NRPA's programs and initiatives and how to maximize your member benefits. You will find areas dedicated to Membership, Research, Career Center, Parks & Recreation magazine, Parks Build Community, Partnerships and the New NRPA Park Path app. You can engage with colleagues and NRPA staff and relax in the lounge, learn about our research tools from experts, check out career opportunities or discuss interesting topics and stories with our editorial staff.
Visit the conference website for details and updates. We can't wait to see you in New Orleans! Laissez les bons temps rouler!
Ted Mattingly is NRPA's Director of Facilities and Administrative Services.