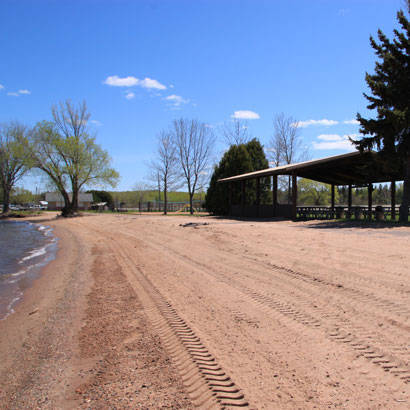 Imagine a nice hot day, and you and your family decide to go to the beach. You pack up all your beach toys, lunch, snacks and towels, and the family heads to its favorite sandy beach. You arrive, unload the car, walk up to the beach and see the sign: "Caution: Water Quality Advisory." You stop in your tracks, your heart sinks and you release a deep sigh (or maybe utter an expletive). You've driven all this way, and now your beach plans have to change because of a microscopic organism. You may even wonder WHY the community has not done something about the poor water quality issues.
A Beach Redesign Concept provides an example of what could be implemented at a beach to improve water quality. Elements of a beach redesign could include removing invasive species, adding sand to raise the beach's profile so it stays dry and limits bacterial growth, planting native vegetation to define the beach area and decrease erosion, discouraging bird loafing, increasing infiltration of surface runoff, creating focused public access points and improving the appearance of the beach.
There are several key steps to a beach redesign project to improve the water quality at a local swimming hole:
Education: Community members need to be educated about beach restoration and what it entails. Yes, beach restoration may improve the water quality by reducing stormwater runoff and making the area less desirable by birds, but it may also upset community members who believe "their" favorite beach is no longer a place to recreate and swim. To avoid having a well-intentioned project turn ugly, educate your community through public meetings, community presentations, Facebook posts, newspaper articles and website updates. Make sure your public leaders are onboard and understand the project and why it's important for public health.
Partnerships: Find people or organizations in your community to partner with — ones who have similar beliefs and for whom the project provides a high likelihood of them achieving their stated mission. Institutions of higher learning, environmental groups, and state and federal agencies are some examples of community partners who may have an interest in improving water quality, reducing public health risks and improving recreational opportunities. A one-time partnership can blossom into other great opportunities for all parties involved.
Strong Data: Research, research, research: Make sure that the data you have are accurate. Ensure that the evidence you have is correct and accurate. For help understanding the data or getting more supporting data, reach out to your local public health agency, natural resources agencies and institutions of higher learning that focus on environmental research, water quality or public health. This is a great way to start a collaborative effort or partnership to fix a local problem.
Big-Picture Concept Design: Think big. Instead of just focusing your project on improving water quality by doing a beach redesign at a small beach, think about the entire area. Can park amenities be added to improve the area, can playground equipment be implemented or improved and can a picnic area be added? Most important, find out what would your community like to see as improvements at this beach.
Clear and Reasonable Expectations: The architectural and engineering firms you enlist to help with the design should listen to the community's suggestions and come up with a concept design that meets the community's expectations. Again, it's important to ensure that the community knows what a beach redesign is, how it will affect the beach and how it could help improve water quality at the beach.
Grant Money Is Not "Free" Money: Grant money is great; it's sometimes the only way any projects can happen. Know the particulars of the grant. Is there a monetary match or are there in-kind donations to be made? Ensure that the grant covers the proposed concept design and engineering plans.
The city of Ashland, Wisconsin, is in the process of doing a beach redesign and restoration project at Maslowski Beach — one of its most popular, oldest and impaired beaches in Chequamegon Bay on Lake Superior. From 2003 to the present, the Wisconsin Department of Natural Resources has tested the water at Maslowski Beach for E. coli two days per week, starting from Memorial Day through Labor Day. Because of the elevated E. coli levels that have been found there, the beach has been on the state of Wisconsin's 303(d) Impaired Waters List. As a result, Maslowski Beach has benefited from several grant-funded projects, such as increased sanitary surveys, initial beach redesign, purchase of a beach groomer, increased water quality monitor in Chequamegon Bay and tributaries, social survey data and a plan to educate beach users about water quality issues. Project partners include the University of Wisconsin-Oshkosh, the Ashland County Health Department, the Wisconsin Coastal Management Program, the Mary Griggs Burke Center for Fresh Water Innovation -- Northland College, the Center for Rural Communities, and the Applied Research and Environmental Lab.
Now, through a U.S. EPA Shoreline Green Infrastructure grant and based on new data, the city will be working with SmithGroupJJR, an integrated architecture, engineering and planning firm, to do a beach redesign and restoration project at Maslowski Beach.
Sara Hudson is Director of the City of Ashland's (Wisconsin) Parks and Recreation Department and Bretting Community Center.
.