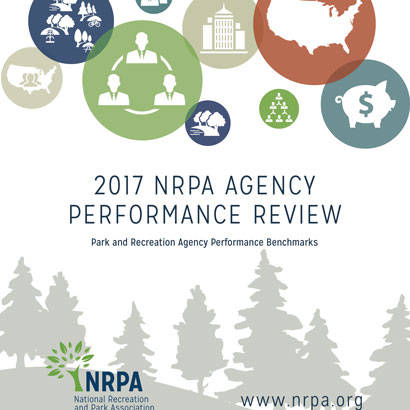 NRPA is proud to announce the release of the 2017 NRPA Agency Performance Review, the annual review of data and insights for park and recreation agencies in the United States. The 2017 NRPA Agency Performance Review (previously known at the NRPA Field Report) summarizes the key findings from NRPA Park Metrics, our benchmarking tool that assists park and recreation professionals in the effective management and planning of their operating resources and capital facilities.
The Review features 21 charts and tables on a wide variety of financial and performance metrics collected from survey responses of 925 park and recreation agencies. These charts and tables cover:
Park Facilities (parks and non-parks, indoor and outdoor facilities)
Programming (team sports, fitness and enhancement classes; programs for children, seniors and people with disabilities)
Responsibilities of Park and Recreation Agencies (from operating parks and facilities to programming types)
Staffing (typical FTE counts, key staff responsibilities)
Budget (operating expenditures amounts and purposes)
Agency Funding (sources of funding, cost recovery, capital spending)
The 2017 NRPA Agency Performance Review's data and insights help park and recreation professionals identify the best decisions for their agency and community. Some of the report's findings include:
Operating expenditures per capita: $77.32/year
Revenue to operating expenditures: 29.1 percent
Acres of park land per 1,000 residents: 9.6
Residents per park: 2,266
FTEs per 10,000 residents: 7.3
A copy of the 2017 NRPA Agency Performance Review is included with the printed edition of this issue of Parks & Recreation magazine. You can also click here to download the report, where you can also dig deeper into the data with interactive tables for each of the 21 charts and tables presented in the report.
Finally, do your part to make next year's NRPA Agency Performance Review even better by entering and updating your agency's data in NRPA Park Metrics. By entering your data, you will gain access to a more detailed analysis of your agency's performance, including being able to compare your agency to its peers throughout the United States. Try it today!