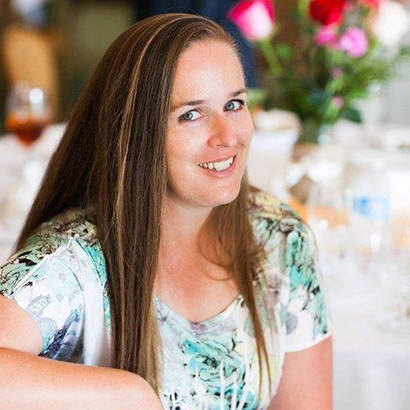 For the past five years, Kristina K. Adams, NAF USARMY IMCOM FMWRC (US), has been the Fitness Director/Special Events at Hunter Army Airfield in Savannah, Georgia. Adams hails from Texas and after graduating from San Angelo State University with a degree in Kinesiology and a background in sports, she decided she wanted to work at a fitness center. "I played basketball the first half of my college career," she shared, "so I knew I wanted to do something in the fitness/sports field. I was so fortunate to get on with the Navy, and it has opened up so many opportunities for me in the field." Before taking the position in Georgia, Adams spent the first 14 years of her career in Texas: as the gym/pool manager at Naval Station Ingleside and then as its Intramural Sports Coordinator, before taking a position as the fitness director at Naval Air Station Kingsville. Last May, Adams received the Commander's Award for Civilian Service for her performance as action officer for a duathlon hosted by Hunter Army Airfield in honor of the installation's 75th Diamond Anniversary celebration. Parks & Recreation magazine recently had a chance to catch up with Adams — following is a portion of our conversation:
Parks & Recreation magazine: What's different about providing recreation for enlisted military members and their families?
Kristina K. Adams: We have the distinct privilege of providing activities and services that affect the quality of life of the men and women who serve this great country as well as their families who, through their sacrifice, serve right alongside their spouse or parent. Morale, Well-Being and Recreation (MWR) goes beyond recreation in that we provide added services, such as child care and library services. We also have some unique facilities that really allow us to provide services to literally everyone in the family. Knowing that what we do within the MWR directorate makes a difference in the lives of our soldiers and, I hope, makes things a little more bearable for the families while their loved ones are away in service of our country, gets me excited about my work.
P&R: You mentioned that you are one garrison but two separate installations: Fort Stewart in Hinesville, Georgia, and Hunter Army Airfield in Savannah. What kind of challenge does that present?
Adams: I think it is the ability to continue to provide quality services with the lack of resources due to the fiscal challenges we are facing. Hunter Army Airfield is much smaller than Fort Stewart, but we still have a community to support. Because of our size, I try to find activities that are unique and fun, but do not require a lot of staff or resources to conduct. So, along with some of our larger events, such as Christmas tree lighting and Fourth of July, I like to include some smaller events with the goal of getting families out of the house and moving. Army MWR is a big family, so we reach out to each other on a regular basis to get ideas and to see what is working and not working on other installations. We were fortunate enough to have a session at NRPA this year in which the presenters just gave us a plethora of programming ideas that other installations are doing that face the same challenges. We are figuring out how to do more with less to give our community something to be involved in.
P&R: What is one of your favorite events?
Adams: My favorite event has to be the cardboard boat regatta. Participants have to construct a boat using only cardboard and duct tape. They bring their vessel the day of the race and have to row it with a two-man crew the length of the pool. I have broken down the event into categories to make it fairer for the younger participants and the fastest time in each category receives a trophy. I also have a trophy for the best-decorated boat. Some of our participants really get into it.
— Sonia Myrick, Managing Editor of Parks & Recreation magazine