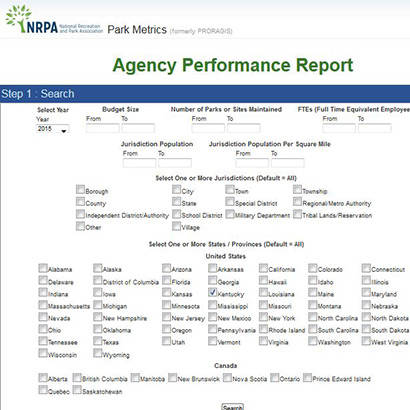 Allow me to introduce — perhaps, more appropriately, reintroduce — you to a friend: NRPA Park Metrics. This is the most comprehensive source of data standards and insights for park and recreation agencies available anywhere. It is an all-inclusive suite of agency performance resources to assist park and recreation professionals in the effective management and planning of their operating resources and capital facilities.
NRPA Park Metrics includes not only an annual report on the state of park and recreation, but also a series of interactive tools that enable park and recreation agencies to build customized reports that allow for comparisons with peer agencies. Park and recreation professionals can use this benchmark data to gain more funding support, improve operations and better serve their communities.
Renamed and Improved
If NRPA Park Metrics sounds familiar to you, it is because you already know it. It is the new name for PRORAGIS. During the past year, we have made a number of improvements to PRORAGIS based on the passionate feedback you shared with us. The new name better reflects the benefits of this powerful resource.
One of the biggest changes we made was a drastic streamlining of the survey instrument that collects PRORAGIS data. The new questionnaire takes far less time to complete and only asks questions that are relevant to a majority of park and recreation agencies.
The resulting Agency Performance Survey instrument, launched late last year, collects all of its information in just 30 questions, broken into eight different sections:
Jurisdiction (location, population, size of area served)
Agency Operations (operating expenditures, revenue sources)
Capital Budget (current year, five-year capital budget)
Personnel (FTE counts, distribution of responsibilities)
Workload (number of parks and buildings, mileage of trails, number of people served)
Agency Responsibilities (what agencies operate, maintain, contract)
Facilities (counts of facilities, athletic fields)
Activities (sports leagues, cultural offerings, out-of-school time programs)
Most importantly, the streamlined survey instrument respects your time. If your agency has not filled out an Agency Performance Survey in recent years, you, like most agencies, can enter your data in 20 to 30 minutes. Even better, agencies that have entered their data in recent years can update their 2016 NRPA Park Metrics data in just a matter of minutes. The online survey form allows you to "push" prior year's data into the current year's form. After transferring this data, all you need to update are a few figures for the current fiscal year and you are done. In many cases, an agency can update its NRPA Park Metrics data in less than 10 minutes.
Why wait? The 2016 Agency Performance Survey is now open to accept your agency's NRPA Park Metrics data. Click here to get started. If you need help with your login credentials or have questions on how to push prior year's data into your 2016 profile, simply email me and I will get you going.
Accessing the Data
When you add your agency's data to NRPA Park Metrics, it becomes part of the most robust park and recreation agency performance database for our nation, allowing your agency and its peers to identify best practices and inform strategic decisions for years to come. While benchmark data cannot, in and of itself, give you all the answers to the issues that may be vexing your agency, it does provide an information base from which you can make educated decisions. Use this data with your leadership, your staff, external consultants and key stakeholders as you guide your agency into the future.
Let's review all of the ways you can access the data from NRPA Park Metrics.
The NRPA Field Report, published each spring, is the annual review of park and recreation agency performance data. The 2016 edition summarizes the data from almost 1,000 agencies throughout the United States, featuring 21 figures that highlight critical metrics of park and recreation agencies. Questions answered include:
What is the median number of residents per park? (answer: 2,277 residents)
What is the typical number of acres of parkland per 1,000 residents? (answer: 9.5 acres of parkland)
What does the typical park and recreation agency staff size look like in terms of full-time equivalents (FTEs) per 10,000 residents? (answer: 7.4 FTEs per 10,000 residents served)
How much in terms of operating expenditures does the typical park and recreation agency spend per resident served? (answer: $76.44 per resident served)
How much does the typical park and recreation agency recover in terms of costs (i.e., revenue as percentage of operating expenditures)? (answer: 29.0 percent of its operating expenditures from non-tax revenues)
As interesting as these findings may be, they only start the conversation. The reason is that your park and recreation agency is not "typical," but rather the product of unique characteristics that serve a diverse population. More powerful insights come when you are able to compare your agency to others that share similar characteristics and challenges.
That is where the NRPA Park Metrics' Interactive Tools come into play. Here you can take a closer look at each of the 21 figures presented in the NRPA Field Report and examine the metrics by major groups. You can dig deeper into the data with crosstabs for:
Acres of parkland maintained by agency
Budget size
Jurisdiction population and type
Number of FTEs
Number of parks maintained
Population per square mile
Region of the United States
You can analyze NRPA Park Metrics even further by creating an Agency Performance Report. Create a custom report of park and recreation metrics based on agency characteristics of your choosing, including agency size and budget, jurisdiction population and geography. These reports feature median values on budgets, staffing and facilities, and highlight the responsibilities and activities of peer agencies.
The most customized reporting experience comes when your agency has an up-to-date NRPA Park Metrics profile. By entering your agency's data in NRPA's newly streamlined Agency Performance Survey, you gain access to a benchmark report that compares your agency to that of its peers. You can narrow down the data to compare your agency to that of a peer group you define (including identifying specific park and recreation agencies that also have updated their NRPA Park Metrics profile). The resulting reports present your agency's data next to the median, upper and lower quartile values, along with the individual responses of each agency in your peer group.
If your agency had not been keeping its PRORAGIS profile up-to-date, now is a great time to enter your data with the streamlined Agency Performance Survey. Regardless of your agency's level of participation with NRPA Park Metrics, I encourage you to discover (or more likely rediscover) the many ways this powerful collection of park and recreation agency performance benchmarks are available to you.
Our work on NRPA Park Metrics is not complete. In the coming months, we will be introducing new reports and dashboards that give your agency new ways to compare itself to its peers and to identify new areas for growth in the future.
Kevin Roth, Ph.D., is NRPA's Vice President of Research.