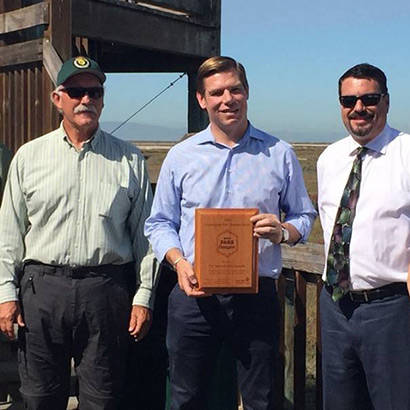 Children from all corners of the world traveled to Bangor, Maine, this summer, united in their hopes of claiming a Senior Little League World Series title at the Shawn T. Mansfield Stadium. Many players and their families may not have known the story behind the namesake of the stadium, Shawn T. Mansfield. He was a Bangor child who loved baseball but, sadly, lost his battle with cerebral palsy and inspired Bangor resident and author Stephen King to donate the funds to build the stadium. It's likely that even fewer people know that Hayford Park, where Shawn T. Mansfield is located, was made possible by the Land and Water Conservation Fund's (LWCF) State Assistance program. Investments in Bangor's local park and recreation, both by members of the community and by our national community through forward-thinking conservation efforts like the LWCF, made it possible to bring the Senior Little League World Series to Bangor.

These stories were brought to light this summer by two dedicated NRPA Park Champions: Bangor Parks and Recreation Director Tracy Willette and Maine Recreation and Park Association Executive Director Deb Smith. They teamed up to bring U.S. Senator Susan Collins, U.S. Congressman Bruce Poliquin, and staff from U.S. Senator Angus King's office to speak during the opening ceremonies of the series. By inviting their members of Congress to participate in this event, Willette and Smith were able to share the stadium's history and its importance to the Bangor community and to demonstrate the importance of investing in local parks and recreation through federal legislation like LWCF.
In this tough political climate on Capitol Hill, it's critical that we get creative to ensure the future of parks and recreation. Fortunately, as park and recreation professionals and advocates, you are uniquely positioned to take an innovative approach to advocacy. Instead of relying on standard advocacy techniques, you have resources to draw on, such as beautiful parks, quality programming and a deep connection with your community. Sure, anyone can interact with their congressional offices with the occasional email. But, by inviting your members of Congress or their staff to see, first-hand, the essential services you provide, you can leave a lasting impression that will allow you to build a strong relationship with your federal elected officials and their staff year-round.
This powerful storytelling, show-and-tell method is exactly what's behind the Park Champion campaign, NRPA's signature grassroots advocacy initiative. It engages park and recreation professionals, park advocates and decisionmakers across the nation in park and recreation advocacy. Through webinars with expert guest speakers, comprehensive toolkits and staff on-hand, the Park Champion initiative is making it easy to bring Capitol Hill to a park near you.
In the second year of the initiative, Park Champions from across the county invited their members of Congress to exciting events they had already scheduled. Members of Congress and their staff, eager to get out of their offices and into the community to interact with constituents, jumped at the opportunity to attend events, ranging from park dedications to summer meal programs, in parks and community centers in their districts. Through these impactful interactions, Park Champions are making a big difference, one event at a time.
As we look forward to 2017, we're excited to see even more NRPA members step up as Park Champions. With the resources NRPA provides, it's easier than ever to become part of the parks and rec advocacy movement. Our staff is on hand to help you plan your event and assist in coordinating with your volunteer and friends networks to plan your Park Champion event. To get started, visit the Park Champion website and sign up to receive monthly updates and access to key advocacy resources and toolkits. If you have questions or simply want to talk about how the Park Champion initiative can work for you, reach out to Jayni Rasmussen or call 440.522.9162.

Jayni Rasmussen is NRPA's Advocacy and Outreach Specialist.
2016 Park Champions of the Year:

With so many incredible Park Champion events this year, it was quite a challenge to choose the recipient of the 2016 Park Champion of the Year Award. This annual award is given to the Park Champi-on who hosts a creative event that best showcases their park and recreation agency to a member of Congress or the congressional member's staff. The recipient of the 2016 Park Champion of the Year Award will receive a plaque and roundtrip flight and lodging to travel to Washington, D.C., in spring 2017 to advocate for parks and recreation on Capitol Hill. After much deliberation, the NRPA Public Policy Committee selected the following winner and finalists:

Winner, 2016 Park Champions of the Year
Tracy Willette, Director, Bangor Parks and Recreation, and Deb Smith, Executive Director, Maine Recreation and Park Association
Event: Senior Little League World Series – Bangor, Maine
Guests: Senator Susan Collins, Congressman Bruce Poliquin, staff from the office of Senator Angus King
Finalists:
Som Subedi, Coordinator | Parks for New Portlanders
Event: Portland World Cup
Guest: Senator Ron Wyden
Michele Potter, Director | Gaithersburg Parks and Recreation
Event: Celebrate Gaithersburg Days and Naturalization Ceremony
Guests: Senator Ben Cardin, Congressman Chris Van Hollen, Congressman John Delaney
Azade Perin-Monterroso, Program Manager - Healthy Communities Office | City of Providence
Event: USDA Summer Meal Program Visit and Speech
Guest: Senator Jack Reed
Tony Collins, Director, and Brandi Bruan, Chief Communications and Development Officer | Columbus Department of Parks and Recreation
Event: USDA Summer Meal Program Visit and Speech
Guest: Senarot Sherrod Brown
Do you want to be the next Park Champion of the Year? Host your members of Congress or their staff at an event highlighting your parks and programs by the end of August 2017 to be elibible for next year's award. It's easy to plan a Park Champion event with the Park Champion Advocacy Toolkit, so get started planning yours today!