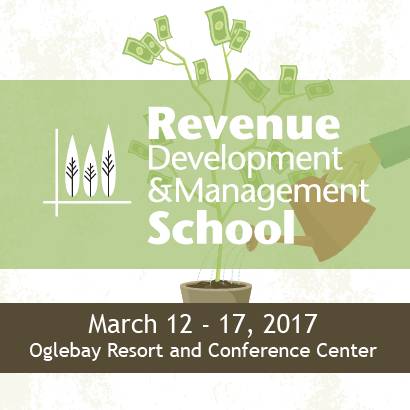 The Revenue Development and Management School is the most comprehensive and unique professional development program focusing on proven revenue management and development techniques. It's targeted towards agencies that rely wholly or in part on generating revenues, such as organizations associated with state or local parks, recreation, leisure services, military recreation and other non-profits.


March 11 - 16, 2018
Oglebay Resort and Conference Center
Wheeling, West Virginia
Learning Objectives:
The basic components of revenue development and management
How to position parks and recreation as an essential service that drives economic development
The value of developing partnerships with community and corporate sponsors
How to develop a cost recovery plan
Where to find cost savings and efficiencies
How to find additional revenue-generating areas within your agency
| | |
| --- | --- |
| Year One Session Topics | Year Two Session Topics |
| Budgeting | Strategic Planning |
| Creative Revenue Development | Design for Maximizing Revenue |
| Marketing Techniques | Business Plans for Successful Projects |
| Pricing for Cost Recovery | Media and Public Relations |
| Contract Services Management | Techniques for Financial Sustainability |
| Developing Foundations | Developing a Marketing Plan |
| Professional Ethics | Creating Value Through Innovation |
Who Should Attend
Agency supervisors, managers and directors who are responsible for generating revenues.
Participant Insight
"Revenue Development and Management school provided a comprehensive overview of all aspects in the parks and recreation business which affect revenue. It provided great networking opportunities with other municipalities, and many valuable tools to take back to your own municipality and apply." --Jillian Fleming, City of Waterloo, Waterloo, Ontario, Canada

"Best educational experience I have had in my professional career. I will be implementing many of the strategies I learned when I get back to my home community." --Gary Johnson, Town of Smithfield Parks and Rec. Dept., Smithfield, NC

"I have attended NRPA Congress for 10 years plus I attended many other executive development schools. This was by far the most pertinent, in-depth and professionally relevant school I have ever attended. Period!" --Mark Tummons, City of Clarksville, Clarksville, TN

"The Revenue Development and Management School provides the opportunity for professionals in the field to enhance their skills and share current (real-life) issues with each other in an effort to improve parks and recreation operations throughout the country." --Carolyn Angiollillo, Manatee County Parks and Recreation Dept., Bradenton, FL
Future Revenue Development and Management School Dates:
Additional Information
For more information about the program content, contact customer service at customerservice@nrpa.org
For more information about registration and other details, contact Oglebay Resort and Conference Center at ntc@oglebay-resort.com