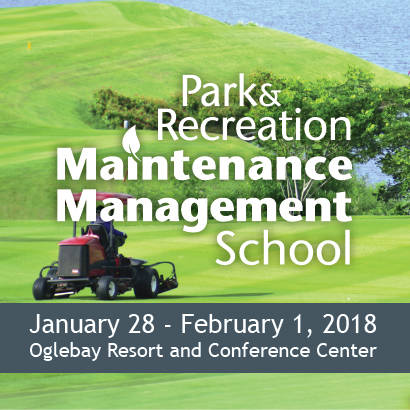 The Park and Recreation Maintenance Management School is a comprehensive two-year professional development program designed to teach park and recreation professionals how to develop and manage a wide variety of maintenance programs.
January 28 - February 1, 2018
Oglebay Resort and Conference Center
Wheeling, West Virginia

Registration opening Summer 2017
Learning Objectives
Year 1 - Identify and recognize effective professional techniques of maintenance management. Curriculum is directed at the improvement of attendee's professional maintenance management practices.
Year 2 – Acquire a broader knowledge of maintenance management and further develop student's specific skills for effective operations.
| | |
| --- | --- |
| Year One Session Topics | Year Two Session Topics |
| Maintenance and Operating Objectives | Maintenance Plan Development Projects |
| Elements of Maintenance | Grounds Maintenance |
| Supervising Maintenance Personnel | Site Amenity Maintenance |
| Maintenance and Operating Problems | Maintenance of Vehicles and Equipment |
| Facility and Structure Maintenance | Supervision and Management Personnel |
| Planning the Maintenance Program | Maintenance and Operating Problems |
| Environmental Management Systems | Environmental Restoration |
Who Should Attend
Park, recreation and conservation personnel who manage park and recreation maintenance programs of any kind.
Participant Insight
"The Maintenance Management School brings together parks and recreation leaders from around the country, providing a unique opportunity to diversify your professional knowledge and relationships. I look forward to attending the second year." --Glen Poole, CO

"The networking opportunities were awesome. I came in with just my agency way of doing things and left with 65+ other ideas and suggestions. Great school!" --Shaniqua Simmons, FL

"Great to meet other people in the same field with some of the same issues that I see. Awesome to see us put our minds together as one and overcome the challenges that we are facing now and the ones in the future." --Anthony McLamb, NC
Official Sponsor
STIHL, Inc. has generously created a scholarship program for participants interested in attending the Maintenance Management School (MMS). Scholarship applications are no longer being accepted for the 2017 school, but information about the scholarship will be posted to this page once the application period opens for 2018.
Future Maintenance Management School Dates:
January 28 - February 1, 2018
Additional Information
For more information about the program content, contact customer service at customerservice@nrpa.org
For more information on registration and other details, contact Oglebay Resort and Conference Center at ntc@oglebay-resort.com