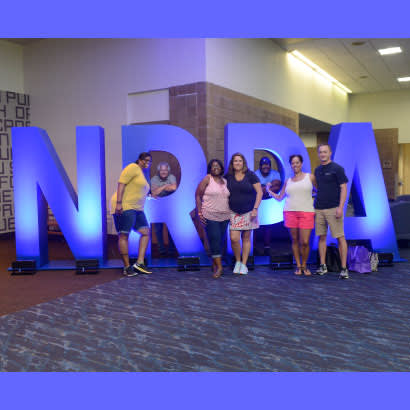 As our work lives return to normal following the 2017 NRPA Annual Conference, we would like to take a moment to share some of the feedback you passed on to us about your experience in New Orleans. Your opinions play a huge role in the development and evolution of conference year after year. So, thank you to the more than 1,100 attendees who shared your feedback!
Approximately 8,000 park and recreation professionals from across the country and world attended this year's conference to learn, network, seek out new products/specific companies, and experience the city of New Orleans. With more than six in seven practitioner attendees (defined as attendees who work for a park and recreation agency) rating their overall satisfaction with conference as either a "4" or "5" on a five-point scale, the conference was a tremendous success.
"There is something for everyone at this conference. I brought our facilities manager with for the 2017 Conference and he is already talking about going next year. Networking, purchasing, learning, this conference has it all!"

Education
Attending education sessions/earning CEUs ranked as the top reason for coming to conference and with nearly 300 sessions to choose from, attendees were not at a loss for options. Topics touched on the three NRPA pillars of conservation, health and wellness, and social equity, as well as, business, leadership, and public policy, just to name a few.
"The education sessions and network opportunities at NRPA conference are top notch."
This year's conference featured a new method for tracking CEU credits. The response to the Tap-and-Go technology was largely positive as 84 percent of practitioner attendees rated the system either a "4" or "5" on a five-point scale. A number of commenters said the new technology was "much improved," "awesome," and "great." But, thanks to your feedback, we still know we have some work to make this technology even more user friendly in 2018.

Exhibit Hall
A whopping 99 percent of you visited the Exhibit Hall floor at least once this year. And with more than 450 exhibitors, it is not surprising that nearly two in three attendees stayed on the Exhibit Hall floor for at least three hours.
"Seeing the exhibit hall was an eye opener, it made me think that I was a child again."
Conference attendees who work for a park and recreation agency play key roles in the purchasing decisions at those agencies. Fifty-four percent of practitioner attendees make final purchasing decisions (or are a part of the group that makes the final purchasing decision). Another 32 percent of practitioner attendees make recommendations to the decisionmaker on purchases.

Your Favorites
Topping the list this year as your favorite NRPA Annual Conference event/offering was the Opening General Session, featuring Matt Iseman. Eighty-five percent of practitioner attendees who attended the Opening General Session gave this session either a "4" or "5"out of 5. This was followed closely by Wednesday's keynote speaker, Jessica Pettitt, with 82 percent of practitioner attendees rating this session either a "4" or "5". Three in four of you gave the Opening Reception at Mardi Gras World high marks with nearly as many saying the same about the Parks Build Community Dedication (74 percent).
"The opening keynote event certainly energized me and got me off to an exciting start."
"Both keynotes were great in two very different ways; I'm really happy a 2nd was offered. They had great energy and made you think."

We Hear You
As Bill Gates said, "We all need feedback. That's how we improve." While your overall satisfaction was high, we know that there is always room for improvement — especially this year when it came to session room sizes and capacity. The most frequently expressed concern was about the number of "sold out" sessions. We will certainly be looking at how to minimize the number of overfilled session rooms moving forward.

Speeding Ahead
As we gaze ahead to the future, we strive to bring you, our members and colleagues, experiences that enrich, enlighten and strengthen your programs and agencies. Thank you to both those that attended conference and to the City of New Orleans who helped make the 2017 NRPA Annual Conference such a success. We look forward to seeing you again September 25-27, 2018 in Indianapolis, Indiana!
"Thank you for another great conference, this year in New Orleans! The sessions offered were excellent as was the Exhibit Hall which always impresses with the variety of vendors and exhibitors on hand to display their products and services. Looking forward to next year in Indianapolis!"
Melissa May is NRPA's Senior Research Manager.