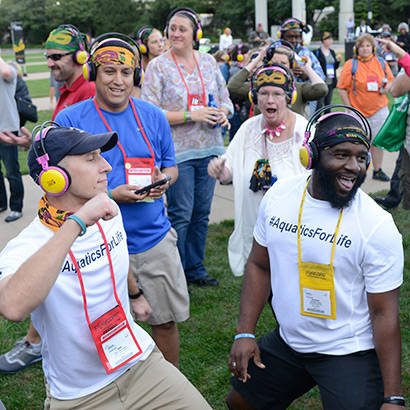 Margaret Wheatley once said, "Without reflection, we go blindly on our way." How true that is. Year after year, we here at NRPA continue to learn, grow and improve using the feedback we receive from our Annual Conference Attendee Survey. This year is no different.
Thanks to the nearly 1,100 conference attendees that evaluated, ranked and commented on their experience, we walk away confidently knowing the 2016 NRPA Annual Conference in St. Louis was a success. Here is what you said.
Over 7,100 park and recreation professionals from across the country and world came to St. Louis for this multi-day event. From agency directors to students, small towns to large cities, buyers to vendors — all facets of the parks and recreation field came together. Overall, the conference was a big success with nine out of ten attendees satisfied with their conference experience.
While reasons for practitioner attendees (defined as attendees who work for a park and recreation agency) to attend the conference are as diverse as the agencies they serve, the three biggest reasons to attend remain the same as last year:
to earn CEUs/attend education sessions (70 percent)
to network (64 percent)
to see new products/specific companies (43 percent).
"As a first time attendee, the conference went above and beyond my expectations! I absolutely loved hearing about other professionals experiences and advice and I loved meeting professionals from all over the country!"
"A great way to connect and share ideas to come back to your agency energized!"
Your Favorite Parts
It is always our mission to provide a new way of looking at the profession and keep traditions that remain relevant and evergreen. This year's conference provided a good mix of both. 84 percent of practitioner attendees who attended the Closing General Session event rated the event either a "4" or "5" on a five-point scale, making it the best received event at the conference. The NRPA General Session was also a big hit with four in five that attended, followed by the Parks Build Community Dedication (78 percent), and the Learning Playground Sessions (70 percent).
"Definitely the closing session!! It was unlike anything before!! So unique, had a blast. Opening at St. Louis Zoo is a close 2nd!!"
"The content of the sessions was my favorite part of the conference! I come to the conference to take advantage of great learning opportunities and to find information that I can take back to my department to improve our operations and programs. I greatly enjoyed my experience this year!"

Things We Need to Work On
While 90 percent of conference goers rated their overall satisfaction with the conference as either a "4" or "5" on a five-point scale, we know not everything went exactly as planned and we truly do appreciate you letting us know what we can improve upon. Suggested areas of improvements you gave us included: event days of the week, long lines (food and drinks, General Session, Build-a-Bears, etc.) and providing sufficient opportunities to earn CEUs. We will be looking into these matters and more as we strive to bring you the best conference experience that we can.
A Look to the Future
As we look ahead to the future, we endeavor to bring you topics that enrich, enlighten and strengthen your programs and agencies. Thank you to the over 7,100 people who made the 2016 NRPA Annual Conference in St. Louis such a success. We look forward to seeing you all again September 26-28 in New Orleans, Louisiana!
Melissa May is NRPA's Research Manager.