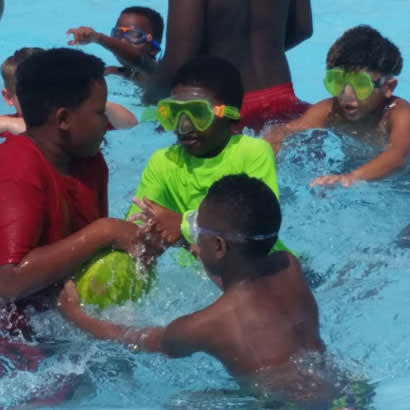 Anniston Parks and Recreation was thrilled to receive the Healthy Out of School Time Grant from NRPA in 2017. As part of the grant, we took Commit to Health, put our unique twist on it and began our Commit to Health program in June 2017. Each of our four community centers and the Aquatic and Fitness Center participate by offering nutrition education and fun physical activities.
Summer day camps at Hodges Community Center and the Aquatic and Fitness Center enjoyed using activities from the Food of the Month curriculum. Activities included active games, nutrition trivia, worksheets and everyone's favorite, Taste N Treat — an opportunity for the kids to try a new food or treat. From salsa to smoothies to healthy king cake, Taste N Treat was the hit of camp. The campers were quick to point out if it was not on the weekly calendar. Other community centers also used Food of The Month to #CommitToHealth by having weekly nutrition talks with kids and promoting healthy living.
The favorite Commit to Health activity of the summer was Watermelon Day. Held at Washington Pool during summer day camp, Watermelon Day was a splash! The campers learned interesting watermelon facts followed by games of watermelon water polo. The object was to move a greased watermelon across the pool. After the camps battled it out, the counselors and lifeguards challenged each other to a match. Later that day, as each camp enjoyed the nutritious watermelon, the campers were able to tell staff all the fun facts they learned.
For fall break week, the Anniston Parks and Recreation staff came together for Fall Break Fun Week. 30 kids ages 8-15 participated. Monday through Thursday featured four hours of active games and nutrition. Carver Community Center hosted Monday with basketball, track, soccer and bingo. On Tuesday, we went to the Aquatic and Fitness Center for swimming, handball and Taste N Treat. Taste N Treat included learning about pumpkins and winter squash and tasting pumpkin pie filling on whole grain graham crackers. South Highland Community Center hosted the activities at Nettles Park on Wednesday. The kids played kickball, knocker ball, corn hole, jump rope, hula-hoops and more. Thursday was Norwood Hodges day. Team PARD taught volleyball, horseshoes and games; then the kids had cooking class with Mr. Ray, where they learned how to make healthy pizza and ice cream in a bag.
Fall Break Friday found us at Michael Tucker Park. The kids enjoyed a bike ride down the Chief Ladiga Trail. After lunch, they played frisbee golf, raced through a bouncy obstacle course and participated in pumpkin painting. Each camper received a #CommitToHealth t-shirt.
We finished 2017 with a Healthy Holidays poster contest, in conjunction with our Candy Cane 5K Fun Run. The posters were displayed at the fun run. Winners received swag bags that included cooking utensils, holiday potholders, recipes, games and more.
Our staff members were enlightened by how eager the kids were to participate in the nutritional education portions. One child told the staff he loved cheesecake, but his mom would not let him have it because it was not healthy. After learning how to prepare a healthy option, he now enjoys it as a snack. Families told us they appreciate knowing that their child will receive a healthy meal or snack during summer day camp and other activities. By using Commit to Health, we were able to increase the number of meals served during the summer food program, introduce kids to new foods and teach them about being healthy!
Anniston Parks and Recreation is excited to work on not only continuing Commit to Health programming, but also making it bigger and better. We will incorporate healthy activities and education into our spring break events held around the city. We are already making plans for the fall break of 2018 to go to two of our parks located near housing authorities to reach out to different areas of town. Each center will continue to include Commit to Health in their programs and activities. The City of Anniston is proud to be proactive in improving the health and wellness of the citizens in our city and surrounding areas.
Anniston Parks and Recreation's Commit to Health programing was one of several programs nominated for the Alabama Recreation and Parks Association 2017 Innovative Program of the Year. We submitted a written nomination along with a pictorial overview of the program. At the ARPA annual awards ceremony, we were thrilled when we were announced as the 2017 Innovative Program of the Year for Agencies with populations of 15,000 and above.
We were even more excited to find out that NRPA is offering an award for Innovation in Health. We can't wait to finish our nomination for this! May the best innovation in health win!