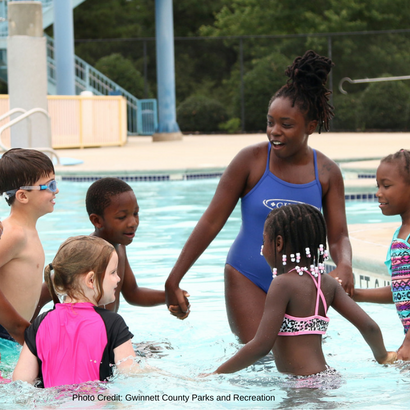 Those famous three words are usually saved for the winter holiday season, which begins at Thanksgiving and runs through New Year's Day. Although I love that time of year, those three words have a totally different meaning for aquatic professionals. Memorial Day weekend starts the swimming season for outdoor pools and lakes. It's the season where many haven't stepped foot into a swimming pool or lake since the end of the previous summer, but the expectation for children and adults alike is swimming is like riding a bike — once you learn, you never forget.
However, drowning remains the second leading cause of accidental death in youth between the ages of 1 and 14. Every year, we hear tragic news of people drowning in swimming pools and lakes. On average, it happens nine times a day across the United States. A nation that goes to great lengths to protect its citizens from terrorists, automobile accidents, toys, etc., but yet drowning numbers continue to be high. What can we do as park and recreation professionals to narrow that gap?
As I reflect on the upcoming season and prepare to open the waterpark I operate, I need to remind myself and my staff of the importance of water safety at the pool. I have come up with 10 basic steps to keep in mind as an operator and a person who enjoys leisure time in a cool pool, lake or beach.
Monitor water. Water clarity is often one of the leading causes of a lifeguard not seeing a guest in distress. If you cannot see the bottom of the pool, close the pool. The lost revenue is not as important as a lost life. If you go to a pool and can't see the bottom, don't swim there.


Inform patrons visiting your pool to watch their children. Even at guarded facilities, accidents can happen. Nineteen percent of all drownings happen in a public, guarded swimming pool. There are so many distractions with today's technology; remember, a drowning can happen in less than a minute.


Encourage patrons to enroll children in a learn-to-swim course and place an emphasis on swim lessons at your facility. Participation in formal swimming lessons can reduce the risk of drowning by 88 percent.


Tell patrons water wings or floatables are not suitable for drowning protection. If used, a responsible adult should always be within arm's reach.


Consider offering free life jackets at pools and waterparks for patrons who can't swim. Boaters on waterfronts also need to be informed of the importance of wearing Coast Guard-approved life jackets.


Keep guests and yourself away from pool drains, and make sure drains are checked on a daily basis to ensure they are properly fastened. The Virginia Graeme Baker Pool and Spa Safety Act has now been in place for 10 years, which is the life expectancy of many VGB-compliant drain covers. Remember to budget for the replacement of your covers.


Apply sunscreen before going to the pool or lake and be sure to reapply throughout the day. Water-resistant sunscreen tends to last longer, but will still need to be reapplied.


Encourage patrons with backyard pools to install proper barriers, covers and alarms on and around the pool.


Remember to rest. Swimming and playing in the water can be exhausting. Swimmers should take frequent breaks and stay hydrated.


Post and enforce water-safety rules. After all, they are there for everyone's protection.
By following these 10 easy steps, you and your guests can enjoy a fun, wet summer at your favorite swimming hole.
Brad Anderson, AFOI is the Facility/Program Supervisor for the City of Englewood, Colorado and Aquatic Facility Operator Instructor.
May is National Water Safety Month! As pools around the country get ready to open for the summer months, it's the perfect time to remind your communities about how to be safe in and around the water. Share our water safety tips this month and follow along on social media using #WaterSafetyMonth and #WaterSafetyWednesday! We're posting a new water safety graphic each Wednesday that is perfect for sharing.