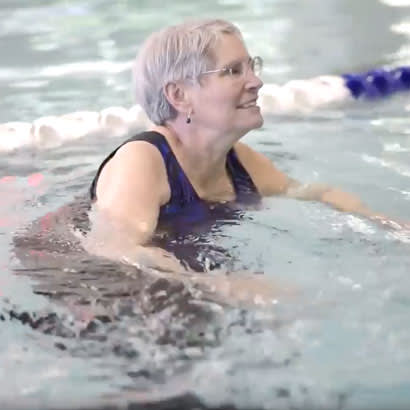 What do you get when you merge personal training expertise with an aquatic therapy background? For Carmel Clay Parks & Recreation (CCPR), it was an opportunity to serve an otherwise underserved population, and in turn, became a program benefiting people with chronic neurological conditions.
Intrigued? Read on to discover an aqua fitness program that is changing the lives of individuals with conditions such as Parkinson's disease, Multiple Sclerosis (MS), Amyotrophic Lateral Sclerosis (ALS), Lupus and Lymphedema.
Pam Runyan, a member of the CCPR team, recognized an opportunity to design a program specifically for people with chronic neurological conditions that combined her personal training and aquatic therapy backgrounds. The program, Neuro-Splash, cites numerous scientific studies which indicate that aqua fitness increases flexibility, balance, range of motion and improves digestive systems.
Pam knew that exercise in the water could lessen certain burdens while enhancing constructive effort. For example, for people with gait or balance issues, aqua fitness provides a safe environment to exercise where fear of falling is drastically reduced. Additionally, the buoyancy of water reduces weight-bearing by 90 percent, according to the American Council on Exercise (ACE), thus requiring less effort than similar land-based exercise, while at the same time providing built-in resistance which can positively challenge balance and coordination.
As an ACE personal trainer who is certified by Aquatic Exercise Association (AEA) and Aquatic Therapy & Rehab Institute (ATRI), Pam paid special attention to pool temperature, air temperature, class size and intensity to ensure success for the participants. Neuro-Splash is administered within AEA recommended pool temperatures between 81-85 degrees and with air temperature 3-4 degrees higher than water temperature in an indoor pool. Each class has seven main components: warm-up, pre-stretch, cardio exercise, strength/muscle endurance training, balance training, vocalization and cool down. Class size is limited to eight participants and the individual needs of each participant are considered in both workout intensity and duration.
After designing the program, CCPR staff met with Indiana Parkinson Foundation and the National Multiple Sclerosis Society to spotlight the unique efforts of each organization to better the lives of impacted individuals and discuss how partnering could expand the reach of Neuro-Splash within the community. In addition, networking at health expos and wellness events created awareness from other local organizations who support individuals with Lupus, Lymphedema and Ataxia. As a result, Neuro-Splash participants have included individuals who battle all of those conditions and provides physical support as well as a social outlet in which to share resources.
Neuro-Splash has become more than just exercise, for some participants it's become a support network and given a new outlook on life. Participants have developed strong social relationships, share triumphs and heartaches, and even schedule lunch dates. Polly (65, with Parkinson's Disease) says, "In this class, I can do things I never could do on land — things as simple as balancing. In the water, my muscles don't get inflamed and I have a more extensive range of motion." Joel (60, with Muscular Dystrophy) says, "Being able to take part in this program has been my lifeline. In the water, I can actually touch the pool floor and work muscles that I would otherwise never get to use."
The Parks for Inclusion initiative through NRPA is working to improve access to health and wellness activities in parks, striving to reach over one million people in the next three years. Through Neuro-Splash, CCPR is contributing to this initiative and directly tying into NPRA's Social Equity and Health and Wellness pillars. CCPR reflects NRPA's commitment to inclusion, believing that people of all ages and abilities should have the opportunity to participate in leisure activities that allow for performance at their highest level
Shauna Lewallen, CPRP, is the Recreation Services Manager for Carmel Clay Parks & Recreation.