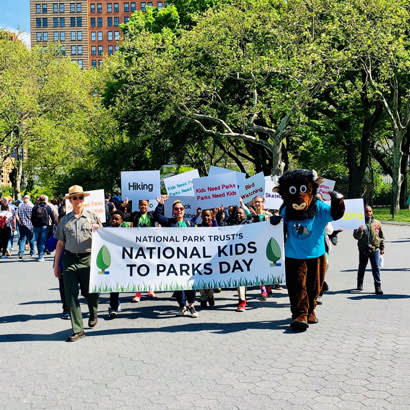 Thousands of park and recreation agencies celebrated Kids to Parks Day on Saturday, May 18, and many agencies made their events Park Champion events by inviting their members of Congress to join in on the festivities! In New York, staff from Senator Kirsten Gillibrand's office and Congressman Jerry Nadler's office spoke at the National Park Trust's Kids to Parks Day launch event on Thursday, May 16, with New York City Department of Parks and Recreation (NYC Parks).
PBS' Nature Cat and National Park Trust's Buddy Bison were also in attendance and hung out and took pictures with the Congressional staff and the hundreds of attendees as they worked to earn their Castle Clinton Junior Ranger Badge. Kids in attendance learned about animal tracks, played a bird beak challenge and received an additional limited-edition Nature Cat badge! It was a great event for all and showed Congressional staff how important parks and recreation is to the community they serve.
"It was a beautiful day at the kickoff to Kids to Parks Day at Castle Clinton, within The Battery! I was inspired by all of the excitement about taking care of our parks among all of the children who attended. Here in NYC there are so many opportunities, especially at NYC Parks, for kids and their families to take part in caring for parks and learning more about the natural world," said Emily Chase, Assistant Commissioner for Public Programs for NYC Parks.
Do you have an exciting event or summer meal program coming up? Invite your members of Congress! Plan your event using the Park Champion Advocacy Toolkit.

Jayni Rasmussen is NRPA's Advocacy and Outreach Manager.
Photos from NYC Parks' Event