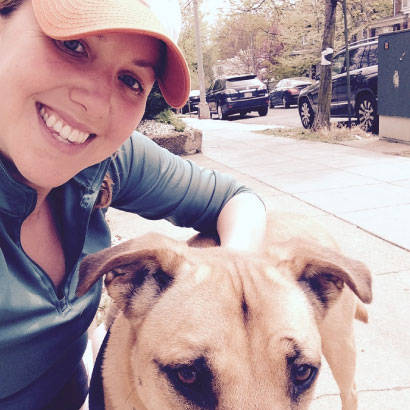 NRPA is proud to welcome Kate Sims, Government Affairs Manager, to our public policy team. She joins the team with veteran staff Vice President of Urban and Government Affairs Kevin O'Hara, Senior Government Affairs Manager Dave Tyahla and Advocacy and Outreach Manager Jayni Rasmussen.
Social worker. Idealist. Food policy junkie.
(At least that's what my twitter descriptor says.)
I am very excited to join NRPA as its Government Affairs Manager for the health and wellness policy portfolio.
For the past five years, I have worked for the Food Research and Action Center (FRAC) here in DC, first as a Child Nutrition Policy Analyst focused primarily on expanding access to the Summer and Afterschool Meal Programs, and then as a Senior Government Affairs Associate working with Members of Congress and their staff to strengthen and protect all of the federal nutrition programs.
Prior to joining FRAC, I earned my Masters of Social Work from Catholic University. As part of my graduate program, I completed two field placements, first at the local anti-hunger organization Bread for the City and then at USDA's Food and Nutrition Service, Child Nutrition Division.
I look forward to applying my policy and advocacy experience in working specifically with the federal nutrition programs to NRPA's legislative work, but I also am excited to expand my own policy knowledge to encompass broader education and healthcare issues as well.
I strongly believe that the best advocates are in fact the program providers on the ground and that my job will be to help empower NRPA's members to advocate on behalf of their own programs and to be a leader in health and wellness policies locally as well. They are, after all, the experts in what they do and the communities they serve.
Politically, we are all currently faced with unchartered waters and it is very unclear what we might face in terms of budget cuts or entitlement program reforms. Now, perhaps more than ever, we must work together to demonstrate to Congress and the Administration how vital community-based programs, like park and rec agencies, are to the health and wellbeing of our nation. Inviting members of Congress (become a Park Champion today!) out to local parks will be critical to our work back here in DC. Only by showing them the impact of the programs locally, can members begin to prioritize them amongst many competing priorities.
As a native Washingtonian, I am certainly not naïve to the perceptions and frustrations folks "outside the beltway" may feel about this town. But I am confident that there are good people who live and work here and who will spend their entire careers protecting government programs and ensuring they are serving the American people as they were intended. I've worked for them and I aspire to be able to look back over my own career knowing I did everything I could to serve the public at-large to the best of my ability.
I am incredibly humbled by the opportunity to now serve NRPA members and represent them on Capitol Hill. I have always admired the work of NRPA and I see an incredible opportunity to continue to push the envelope in terms of the role NRPA can play as a national organization dedicated to obesity and chronic disease prevention and management, while also providing a safe place for a diverse range of communities to get active, get outdoors, and simply let kids play.
I am grateful to my own local park here in DC, Glover Park, where my fiancé and our dog Archie live and garden, and I will never forget the Rocky Mountain National Park where my grandfather was a park ranger and I first discovered a love of hiking and boulder climbing.
Therefore, I think I'd best describe myself as a mountain lion, ready to tackle what's sure to be an uphill climb to Capitol Hill.