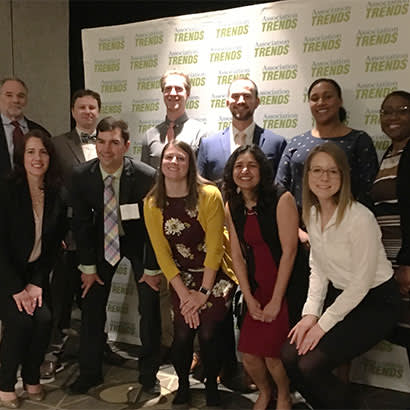 The Winter Olympics may have just ended, but the National Recreation and Park Association (NRPA) still earned multiple medals at the 2018 Association Trends Salute to Association Excellence ceremony. This annual event honors those in the trade association industry for their best and brightest ideas and commitment to their organization's causes.
With wins in six different categories in the All Media Contest, there's no doubt that NRPA is getting it right when it comes to engaging with their members, providing professional development opportunities and educating the public about the importance of parks and recreation! Whether providing agencies nationwide with valuable grants, exclusive research, or making someone's day with a funny emoji, these awards represent the wide range of services NRPA offers.
Read on to find out more about each of the awards!


Membership Promotion Campaign – Gold Award
Touching on a topic that most Aquatic Facilities Operators (AFOs) can find some humor in, NRPA's Poo Emoji Membership Recruitment campaign targeted prospective members to show them the value of an NRPA membership. This campaign not only captured the attention of many new NRPA members, it also won over the Association Trends judges.



Conference Promotion Package – Gold Award
NRPA left no channel untouched when promoting the 2017 NRPA Annual Conference in New Orleans and exceeded all of its goals in reaching members and nonmembers alike. Its Big Easy themed campaign featured a preregistration sweepstakes in which a free trip to the conference was up for grabs!
If you're wondering what NRPA is planning this year, visit the conference page for the latest information.



Monthly Trade Association Magazine – Silver Award
Parks & Recreation magazine earned the silver award for its cutting edge content, exclusive research, "case-study" solutions and commentary from high profile government and civic leaders. The magazine is considered one of the best in the industry with 92 percent of readers saying it is the leading publication in the field of parks and recreation. If you haven't read this month's issue, go read it now!



Social Media – Silver Award
Sixteen cities across the U.S. received $20,000 in grant funding to support a local park in need in each community with the help of NRPA's Meet Me at the Park Campaign in April of 2017. An organized social media campaign reached 806 percent more people (24 million impressions) than the previous years' campaign and educated them on the importance of parks and their role in improving the health of communities and the environment. Check out the impact the campaign made for 2017's winning cities here.



Best New App­ – Silver Award
Most people don't know how much public parks and recreation centers actually have to offer, so NRPA's new Park Path App gives the public a much-needed tool to help them more easily discover and access the endless activities, programs, events and amenities at their local parks and recreation centers. The app provides all of the necessary information needed to help the public access activities in parks, share their experiences through social media, report any park condition issues directly to the agency and encourage others to discover the benefits of parks.The app will also give the park agencies a way to gauge interest and activity at their parks and recreation centers.



eLearning & Live Training – Silver Award
NRPA members who can't attend the NRPA Annual Conference in person don't have to miss out on the educational and professional development opportunities it offers! The live sessions can be continually accessed with archived recordings so members can take advantage of training year round on our Online Learning Portal.